ECONOMY: CRYPTOCURRENCY GETTING CLOSER TO MAIN STREET
Home Sellers Open Door for Bitcoin
Friday, December 29, 2017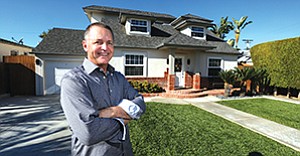 San Diego — San Diego restaurateur Joe Vaught, a Northern California native who moved to the city just shy of 30 years ago, is comfortable with risk.
He has to be: He recently listed his four-bedroom house in Bay Park for the equivalent of $2.5 million in bitcoin, the digital currency. If a buyer comes through, it would be the first sale of its kind — in more ways than one.
Spurring talk of a potential bubble, though, have been the dizzying swings in the cryptocurrency's value, which has risen by roughly 1,700 percent in the past year; speculation of its future value ranges wildly, from zero to more than $1 million.
Vaught, 56, and business partners Mark Cirillo and Eric Lingenfelder run the Verant Group, which owns and operates a handful of bars and restaurants in San Diego, including True North Tavern in North Park and Barleymash in the Gaslamp Quarter.
"I'm building a $6 million bar on the beach right now," said Vaught recently, sitting on a stool at his made-for-entertaining home. "You have to take chances, at least I do. If it's not risky, it's not fun."
His latest project is Waterbar, a beachside eatery which opened Dec. 22 steps from Pacific Beach's Crystal Pier where Joe's Crab Shack was formerly located.
Unlike your typical business owner, however, while shepherding that to fruition, he was also making financial moves based on the belief that Bitcoin — and other cryptocurrency systems made up of digital units distributed on computer servers around the globe, rather than by any bank or government — is the future of finance.
"I believe this is going to be truly, truly the next currency out there," Vaught said. "This is going to open the door to a different way of being able to transact business."
And he wants to show the "haters" how it's done.
An Attractive Alternative
Vaught says his gut tells him a bitcoin will be worth $50,000 by the end of 2018, driven by increasing interest from the people who aren't yet familiar with the concept; once they are, he believes, many more will buy in, further driving up the value.
Satoshi Nakamoto, the mysterious creator of bitcoin, capped the total that can be created, or "mined" through complex computer calculations, at 21 million. More than three-fourths are already out in the world, although not necessarily in circulation, since some have been lost or destroyed.
Prev Next