2017 NEWSMAKERS
2017 Newsmakers: Acquisition Is Team Building Exercise for Seacoast Commerce
Tuesday, December 26, 2017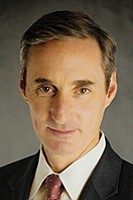 San Diego — Rick Sanborn, CEO of Seacoast Commerce Bank, has made a career of turning around struggling banks.
That's what Seacoast was when Sanborn was hired to run it a decade ago.
Since then, Sanborn has been guiding organic growth while searching out the right way for the bank to expand via partnership. Over the years, he has gotten information on or talked potential acquisition with 23 banks. In recent years, that resulted in serious conversations about combining forces with a few of those financial institutions.
"When you are looking to grow your bank, you are looking for other partners, looking for acquisitions, looking for branches, looking for banking teams — it's what you do," he said in a previous interview.
This year, he sealed the first such deal, bringing San Juan Capistrano-based Capital Bank under the Seacoast name.
The former CEO of Capital Bank, J.M. "Mike" Justice Jr., was not retained in the acquisition; Sanborn is now CEO of the merged banks.
Sanborn said the acquisition — of which he has completed nine to date in his career — makes subsequent growth for Seacoast through mergers and acquisitions more likely as potential partners see he and the rest of the management team have the chops to take the bank through the process.
Following the closure of the Capital Bank deal, total assets under Sanborn rose to just under $1 billion, making it one of the largest banks based in San Diego as ranked by assets.