Nobel Laureate to Retire From Salk Institute
Monday, December 25, 2017
Salk Institute President Elizabeth Blackburn has announced she plans to retire at the end of this summer.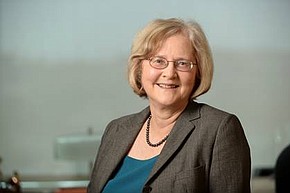 A Nobel Prize-winning scientist and pioneering molecular biologist, Blackburn was named Salk's president in November of 2015. Prior to that, she served as a Salk non-resident fellow. Blackburn won the Nobel Prize in Physiology or Medicine in 2009 for discovering the molecular nature of telomeres, the ends of chromosomes that serve as protective caps essential for preserving genetic information.
"Being named to lead the Salk Institute unquestionably has been an honor of my life and this decision did not come without a great deal of thought," Blackburn said in a news release. "At this stage in my career and life, I've concluded that my energies will be best devoted to wider issues of science policy and ethics – issues in which I have had a deep and longstanding interest – and spent advocating for measures I feel are critical to supporting ongoing scientific research and discovery worldwide. That's where my passion has evolved over many years, and also where I feel I can make the most impactful contribution at the broadest level."
Salk board Chair Dan Lewis said in the news release Blackburn has made invaluable contributions, including launching strategic planning efforts and championing scientists reaching scientific breakthroughs.
Blackburn is the second big name to recently step down at Salk.
Lewis in November took the place of Ted Waitt, who in August announced plans to leave, citing personal obligations, unrelated to the timing of legal action against the research institution.
Three female researchers filed separate lawsuits in July alleging that Salk discriminates against women professors in terms of pay, promotions and other opportunities. Salk has stated the accusations are untrue.
A search for Blackburn's successor will begin in January.