Legoland California Resort Opening New Submarine Ride in 2018
Thursday, August 24, 2017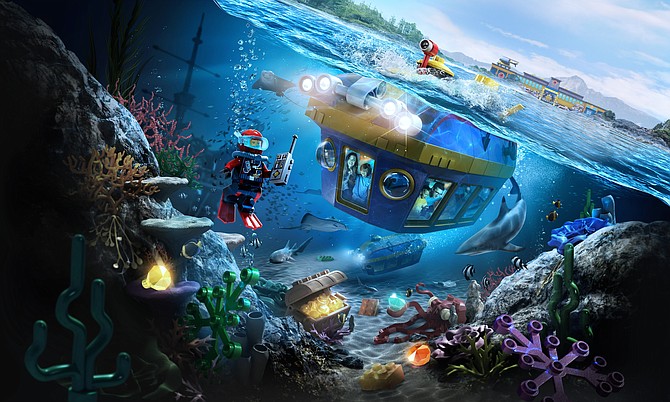 Operators of Legoland California Resort in Carlsbad plan to debut a new submarine-themed ride called Lego City Deep Sea Adventure, opening in 2018 following a previously announced castle-themed hotel that is currently under construction.
In a statement released following an Aug. 24 news conference at the theme park, operators said the new ride will open next summer and represents the single largest investment in any Legoland park by owner Merlin Entertainments.
U.K.-based Merlin, which operates several locations of Legoland among more than 100 themed attractions worldwide, does not disclose project costs or other data for its individual parks.
Legoland California Resort General Manager Peter Ronchetti said the submarine-themed ride, the company's first in the U.S., will take visitors underwater to view more than 2,000 real sea animals, including several species of stingrays and a variety of exotic sharks.
The ride will be themed around a search for lost treasure on a sunken Lego shipwreck, with porthole-adjacent touch-screens that guests can use to help a Lego mini-figure dive team identify gems, pearls, gold coins and other items. Up to 12 guests will be able to board one of eight submarines, which are designed after the Lego City Deep Sea Adventure line of toys.
Legoland also announced that a new 4-D movie, featuring Lego's Ninjago toy characters, will debut at the park's Lego Showplace Theater in January 2018, combining 3-D computer animation with "4-D real-world effects."
Ronchetti said the park has begun the process of hiring 200 employees, including 30 in executive positions, to work at Legoland California Resort's new castle-themed hotel, set to open in spring 2018. The 250-room property follows a similar-sized Lego-brick-themed hotel that opened at the Carlsbad park in 2013.
Merlin Entertainments has added several new attractions at the Carlsbad venue during the past five years. In June, the park debuted Surfers' Cove, the latest addition to its existing on-site water park, featuring six water slides with 100-foot tracks on which guests compete for the fastest finish times.