Precision Approach Will Evolve Higher Ed
Originally published August 10, 2017 at 1:28 p.m., updated August 10, 2017 at 1:28 p.m.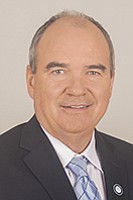 San Diego — San Diego is home to a growing number of companies that are leveraging advanced technologies, data analytics and predictive models to address our society's greatest challenges. Some are harnessing genome sequencing to create targeted medical treatments, while others are engineering drones to deliver precise information about crops. One area that we believe holds great potential is higher education, where there is a clear need to better serve post-secondary students and address workforce needs.
Here in California, an estimated shortfall of one million college graduates by 2025 means that we have limited time to find more effective ways to identify and serve students who are not making it through the traditional higher education system. Among these who we can better serve are adult learners, a group that is becoming a dominant portion of all post-secondary students.
Reaching these students and others who have diverse needs and backgrounds will become increasingly critical to the long-term success of San Diego businesses and our nation. That's why we believe there is a need for higher education to collaborate with other educational organizations and external groups to develop new models and approaches that use "precision" tactics to address a wide range of student needs.
San Diego-based companies such as Qualcomm, Illumina and Pathway Genomics are a few examples of local companies developing precise, customized solutions to health, agriculture and medicine. Research organizations have also been leaders in pursuing precision approaches to health and medicine, such as The Scripps Research Institute, Sanford Burnham Prebys Medical Discovery Institute, Salk Institute for Biological Studies, and UC San Diego Health.
Meanwhile, the San Diego Supercomputer Center at UC San Diego is considered a leader in advanced computation applications. By learning from each other, we can further our individual causes, strengthen our communitywide efforts, and improve student outcomes in higher education.
Meeting Unique Needs
Higher education and the acquisition of knowledge is one of the last frontiers being affected by the technological revolution. EdX and Coursera have been re-framing the discussion of how we assign value to knowledge when it is "free." Creating open, accessible courses and materials is only part of the solution, however, and that's why National University is embarking on what we are referring to as the Precision Education initiative.
Our aim is to develop a comprehensive educational ecosystem, refined through the use of data, technology and predictive modeling, to more effectively meet the needs of students and guide them to successful completion of their academic and career goals by better identifying pain points and reducing time to completion. It can also lead to more customizable workforce training in conjunction with local employers.
Prev Next
Page 1 of 2.