UC San Diego Names Simmons Executive Vice Chancellor for Academic Affairs
Friday, August 4, 2017
Following an "extensive" international recruitment process UC San Diego has appointed Elizabeth H. Simmons executive vice chancellor for academic affairs, effective Sept. 18.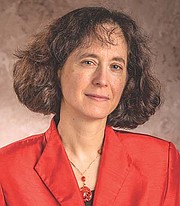 Simmons, a physicist who focuses on particle theory, currently holds two leadership roles at Michigan State University, a public research university with a student population of more than 50,000.
She was appointed this year as Michigan State University's associate provost for faculty and academic staff development. She has been dean of Lyman Briggs College, a residential college at Michigan State, since 2007. She also served as acting dean of the College of Arts & Letters, one of the three core colleges of the university, during the 2014-15 school year.
Previously she held leadership positions at Boston University, where she began her career as an assistant professor in 1993. She was director of the university's Learning Resource Network, which coordinates enrichment programs for K-12 students, and associate chair for undergraduate studies in the Department of Physics.
Simmons earned her bachelor's degree, master's degree and doctorate in physics from Harvard University. She received a Master of Philosophy degree in physics from the University of Cambridge. She has served as a consultant on the subject of building diversity in science, technology, engineering and math (STEM) for the American Physical Society, Fermi National Accelerator Laboratory, U.S. Department of Energy and Jefferson National Laboratory.
In her role as executive vice chancellor, Simmons will serve as UC San Diego's chief academic officer, overseeing academic programs and the recruitment and advancement of faculty and driving academic, student support and student outcome initiatives.