CROWDED MARKET, LIMITED SHELF SPACE AND OTHER FACTORS FORCE BREWERS TO HAVE SOLID BUSINESS STRATEGY
Sober Assessment Time For Craft Brewing
Originally published April 27, 2017 at 12:43 p.m., updated April 27, 2017 at 12:43 p.m.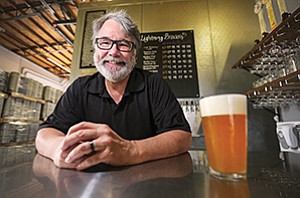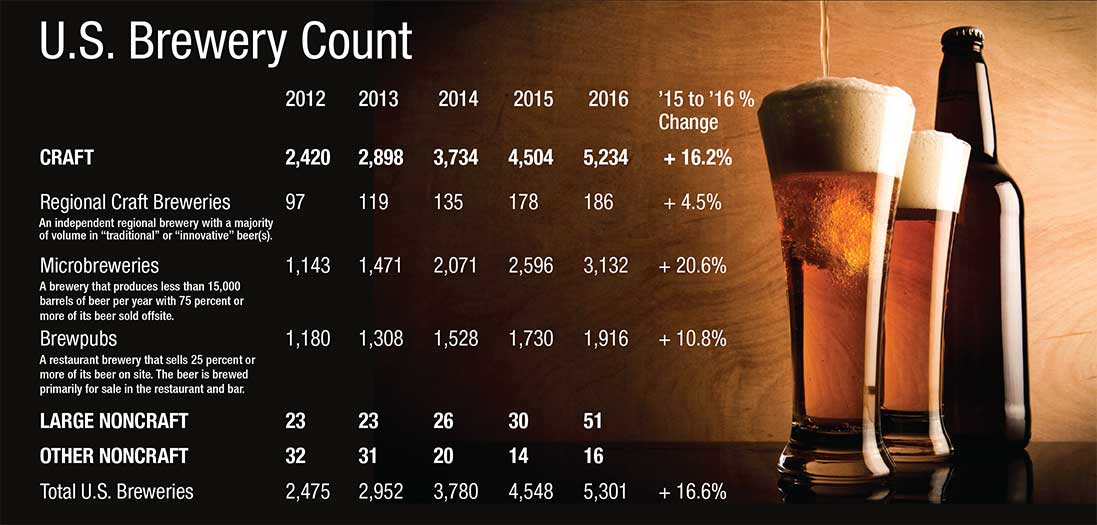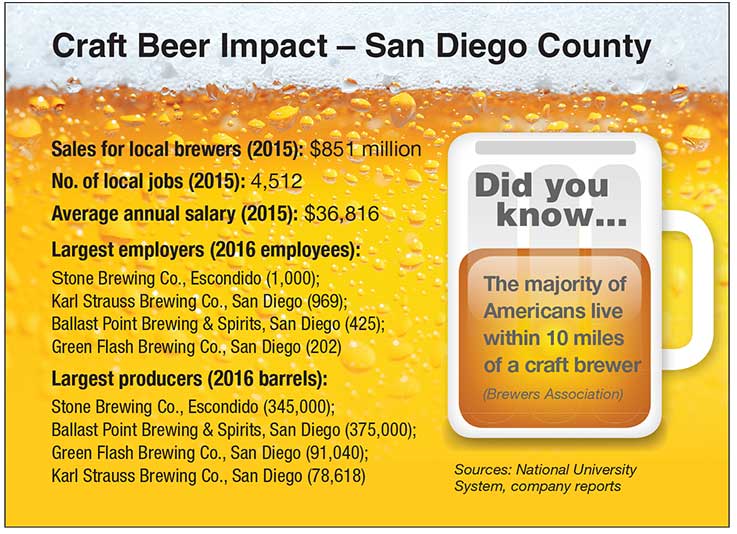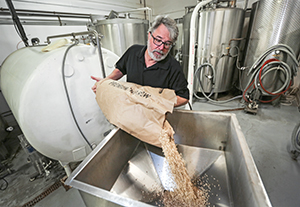 San Diego — Brewers like Jim Crute, who has owned and operated Poway's Lightning Brewery for the past decade, are finding that this is a critical time to assess their place in a craft beer industry where growth is slowing, and where retail shelf and tap space is getting increasingly tough to conquer.
Do they stay small and local? Plow considerable money and effort into growing their regional and national sales footprints? Or simply get out of the business?
All of these options occurred to Crute, 58, who in December decided to place Lightning Brewery on the market for potential sale. Posting in places including Craigslist and the national beer-news publication Brewbound, his hope was to find someone willing to buy his operation outright, or add his brands like Lightning Thunderweizen to that brewery's stable of offerings.
Most of the responders, Crute said, were "looky-loos," many of them without the required financial resources to seriously take on a new company or brand.
After recently seeing diminishing returns on his own retail distribution efforts — which contributed to his company producing around 800 barrels in 2016, down from 1,200 in 2014 — Crute decided to stay in the game but maintain a micro or nano-brewer's approach to a craft that he still very much enjoys.
Online and Direct Sales Channels
A veteran researcher in the life-science and pharmaceutical industries before deciding to move into beer — starting like many locals with a home brewing hobby — Crute said he will now focus on selling direct to his customers through his current on-site tasting room in a Poway industrial park, along with satellites that he may add sometime in the future.
Taking a page from the playbook of small vintners and wine clubs, he will also be selling straight to buyers through online and other direct-sales channels that don't involve significant participation by third-party distributors or retailers.
He's looking to downsize on the storage, distribution equipment and other costs associated with selling his beers in supermarkets and other retail outlets during the past few years.
"We've basically kept our priorities the same and we've been keeping in touch with the customers, and treating people equitably and fairly," Crute said of the work done by himself and a current staff of three. "Like everybody, we've had brews that have been well-received and others not so much."
"But it's really the bigger landscape that's changed around us," he said. "It's gotten easier than ever to start a brewery, but it's also gotten much harder to keep a brewery profitable." The Flood
By the count of several local observers, San Diego County now has at least 140 licensed on-site brewing locations — including breweries, brewpubs and tasting rooms — and at least 27 others in various planning stages.
This continued proliferation comes as U.S. craft beer industry sales growth, in the early months of 2017, has slowed to high-single-digit percentage territory on an annual basis, down from the easy double-digit gains seen just two or three years ago. The maturing industry has seen a wave of consolidations and closures, including at least a half-dozen local brewers that fell by the wayside during the past year.
The upside for craft beer is that it continues to drink away at the market shares of traditional mass-marketed macro brands, spurred largely by consumers' changing preferences for new styles and localized, independent offerings.
Also fueling a slow but steady string of macro-brewer acquisitions of craft players (the most high-profile local example being Constellation Brands' $1 billion buyout of San Diego's Ballast Point in 2015) is that craft is the only segment of overall U.S. beer sales seeing any signs of consistent growth, even if the pace of those gains has slowed.
According to the Colorado-based Brewers Association, which serves the craft beer industry, overall U.S. beer barrel-sales volume in 2016 grew essentially by zero percent over 2015. In contrast, the craft segment during 2016 at least grew by 6.2 percent on a volume basis, even though that was less than half of the 13 percent gain in volume seen during 2015.
In 2016, the U.S. craft segment's dollar sales grew 10 percent, to $23.5 billion (the gain was down from 16 percent seen in 2015). Craft beer in 2016 accounted for 21.8 percent of the beer industry's overall dollar sales volume of $107.6 billion, and 12.3 percent of the production volume of 196.7 million barrels.
Picking a Path
However, the fact remains that more craft players are fighting for their place on a finite number of store shelves, as well as the beer-tap slots of bars and restaurants.
Pressure is forming on midtier players, as many brewers decide either to invest their finances and energies into going bigger — into more U.S. and overseas regions as well as more types of venues like ballparks, and packaging alternatives such as cans — or to double-down on a smaller, localized presence with the strategic addition of satellite tasting rooms in otherwise underserved neighborhoods.
"Many of these brewers are going to have to decide what they want to be," said Vince Vasquez, an independent industry analyst affiliated with National University in San Diego.
Vasquez said there is a growing contingent of local brewers, whose operators are choosing to forgo or supplement their national ambitions by focusing on expansions of existing tasting rooms and brewpubs, and also setting up satellite tasting rooms in neighborhoods otherwise underserved by craft beer makers.
Prominent examples include the Mission Bay-adjacent Bay Park neighborhood in San Diego, where the Grantville-based Benchmark Brewing Co. recently opened a satellite tasting room. Coronado Brewing Co., one of the region's larger craft brewers, set up its own satellite in that neighborhood a few years ago, and has since been followed by other smaller players catering specifically to those residents near Mission Bay.
Coronado Brewing has also helped turn the otherwise underserved Imperial Beach into a budding craft-brew center, previously establishing a satellite brewpub and currently in the process of adding another tasting room at a mixed-use project in that city known as Bikeway Village. (The region's fifth-largest craft brewer, Coronado Brewing also continues to expand its U.S. and international distribution base).
Similarly, San Diego's Barrio Logan neighborhood in recent years has developed its own collection of craft beer purveyors, kicked off in part by the arrival of a satellite tasting room operated by Vista's Iron Fist Brewing Co.
Tasting Room Boom
Vasquez said there is rising recognition among brewers that there is plenty of potential upside to serving craft-beer aficionados throughout the region who would likely frequent a place if they could get to it within walking distance or a 15-minute drive.
"Not everybody has the time to get over to North Park or Miramar," he said.
Tomme Arthur, owner of Port Brewing/Lost Abbey in San Marcos, said his company continues to explore opportunities to expand the reach of its beers.
"That being said, we also are watching the proliferation of satellite tasting rooms and feel that landscape will become quite crowded as well," Arthur said.
He is keeping his company's 2017 sales growth projections conservative, a modest 5 percent to 6 percent, as the brewer seeks out access to new markets with its current distribution partners.
"Also, we are not actively pursuing new territorial expansions, and organic growth can be tough to come by right now," Arthur said.
Arthur and other observers noted that San Diego County is seen as an expansion target not only by local brewers but by those outside the region, including Orange and Los Angeles counties. Also witness the recent arrival, for instance, of Oregon-based 10 Barrel Brewing's new brewpub in East Village.
By the same token, there are opportunities for local companies to expand their brewpub reach into neighboring Southern California counties, most recently being done by San Diego's Karl Strauss Brewing Co. and previously Carlsbad's Pizza Port Brewing Co.
Observers said the region's largest players, with global distribution ambitions, are facing the inevitable realities of revising strategies and recalibrating their workforces to handle growth. Escondido's Stone Brewing Co. and San Diego's Green Flash Brewing Co. both underwent local layoffs during the past year, as both grew their production operations in Virginia and Stone ramped up operations in Berlin, Germany.
More Partnerships, Consolidations
Brian Mulvaney, senior vice president in the Beverage Finance Group of Bank of America Merrill Lynch, said similar challenges at various levels are being seen by brewers of all sizes in San Diego County and elsewhere.
"It's just the natural life cycle of an entrepreneurial business," Mulvaney said. "Sometimes the business owner runs into issues or conditions that were not anticipated. But just because it's not growing like it was a year or two ago, that doesn't mean it's not still growing."
Mulvaney, who works with brewers throughout the United States on funding matters, said there will likely be continued scrutiny of the business operating fundamentals of brewers going forward, as there always has been. But overall, the lending and investment community has not lost its appetite for investing in expanding companies with established track records.
Going forward, Mulvaney expects there will likely be more partnerships, consolidations and other types of exit strategies that will help prevent a wave of mass closures by brewers. Some of those partnerships will be needed by brewers to get their products onto major retailers' shelves, a task that's being made more challenging by events including last year's mega-merger of the world's two largest brewers — the parent companies of Budweiser and Miller, among numerous other big brands — which have only increased their clout.