Cidara Therapeutics' Platform Identifies Potential New Drug Candidate
Wednesday, September 21, 2016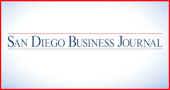 Local drugmaker Cidara Therapeutics Inc. has identified a new research target that could potentially treat bacterial infections that have formed resistance to multiple drugs on the market, the company said Wednesday.
The new program, called CD201, would harness the body's immune cells to attack and eliminate the infection. The potential drug target was discovered through Cidara's drug discovery platform, Cloudbreak. The platform is designed to create compounds that direct a patient's immune cells to fight bacterial, fungal, or viral microbial pathogens, Cidara said in a news release.
"Our Cloudbreak platform represents an entirely new approach to infectious diseases and has the potential to transform the treatment of these diseases in the same way that immunotherapy has transformed the treatment of cancer," said Jeffrey Stein, president and chief executive officer of Cidara, in a statement.
Stein said the company expects to file an investigational new drug (IND) application next year, and will start clinical development of CD201 sometime in 2017.
Cidara plans to continue ongoing investigations with Cloudbreak, with the intention of advancing multiple drugs across different indications and therapeutic areas.