Kiran's Data Analytics Can Translate to Money in the Banks
TECH: SaaS Company Clues Retail Banks on Efficiencies, Service Levels
Originally published September 15, 2016 at 3:45 p.m., updated September 15, 2016 at 3:45 p.m.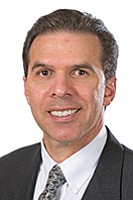 San Diego — Jim DeLapa admits without hesitation to spending hours standing outside banking centers. It's part of the job.
After studying the foot traffic, he enters the financial institution to find out the reasons behind its level of patronage.
DeLapa, the CEO of Kiran Analytics, a San Diego-based company that uses predictive analytics to bolster retail bank branches' operating efficiency, believes expertise gained through such on-the-ground methods is the reason for the company's growth.
"Any top-performing business needs to adjust their delivery channel to meet the needs of their customers," he said. "That's where we come in."
While banks continue to struggle with adopting methods to please their increasingly app-happy customers, the industry is perhaps ahead of others in its use of analytics because of the importance of fraud prevention.
Among its customers are five of the top 10 retail banks in the country, though the company declined to specify which ones. The company also has clients in Canada and the U.K.; in addition to San Diego, Kiran has an office in London.
As of early 2015, about 10,000 branches were using its software services, according to Kiran.
DeLapa said the company expects the run-rate of its SaaS, or software as a service, to double by the first quarter of 2017, thanks in part to banks' growing level of comfort with cloud computing.
Brick-and-Mortar
Headlines in recent years have trumpeted the closure of hundreds of bank branches, but the reports are overblown, DeLapa said.
As of 2015, there were more branches in operation in the United States than in 2005, he said. According to data from the Federal Deposit Insurance Corp., there were 93,283 branches in operation last year. The total peaked in 2009 at 99,550, but the number in operation as of the end of last year tops 2005's total of 92,043, according to the FDIC. California has followed that nationwide trend, according to the data: in 2015, there were 7,099 branches operating, compared with 6,621 a decade prior.
"Drive around San Diego and go to any new neighborhood where they're building houses and right after the Starbucks is in place, you're going to see a Wells Fargo branch open, a Chase branch open, a U.S. Bank branch open," he said.
Branch Balancing Act
The trick for banks striving to remain relevant in the internet age will be shrinking the footprint of their brick-and-mortar branches and ensuring they remain efficient as customers' habits change, not necessarily shutting the doors, DeLapa said.
Prev Next
Page 1 of 3.