Convention Center Generated $1.1B in Economic Impact During Fiscal 2016
Wednesday, November 30, 2016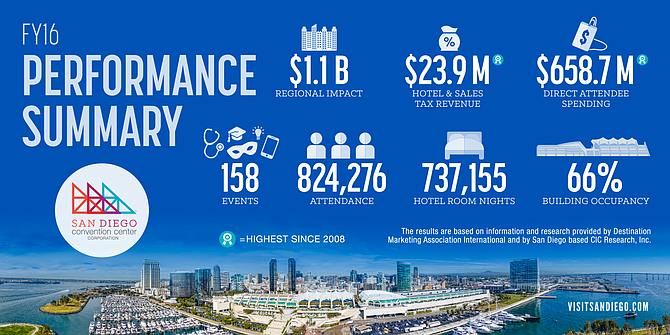 The San Diego Convention Center generated $1.1 billion in regional economic impact during fiscal year 2016, including $658 million in direct attendee spending, center operators reported.
Annual numbers released by San Diego Convention Center Corp., for the fiscal year that ended June 30, indicated that the downtown waterfront facility hosted 824,000 attendees, its fifth-best year. Citywide events spurred by conventions generated $23.9 million in hotel and sales tax revenue for the city's general fund, the highest level since 2008.
Comic-Con International, with an economic impact of $140 million, was the biggest generator out of 158 events held at the facility. Lightfair International generated $70.7 million, with the Realtors Conference rounding out the top three with $58 million in regional impact.
The facility also hosted 14 medical industry meetings, which accounted for nearly 30 percent of the overall economic impact during the 2016 fiscal year.
The convention center, which opened in 1989 and has an annual budget of approximately $36 million, delivered a regional economic impact of $1.06 billion in fiscal year 2015, including $624.7 million in direct attendee spending.