AI Is On Board for Netradyne Inc.'s Fleet Monitoring Vision
TECH: System Can Estimate Traffic Speeds And Spot Pedestrians
Originally published November 10, 2016 at 2:39 p.m., updated November 10, 2016 at 2:39 p.m.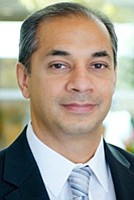 San Diego — For a long time, several tech companies serving the transportation industry have made San Diego their home. The common threads running through their businesses are video cameras and trip data. A camera in the cab of a big rig provides an extra set of eyes on the driver, the road and everything going on around them.
A business called Netradyne Inc. recently joined the group. The 1-year-old company wants to take such technology to its logical next step by adding artificial intelligence.
Netradyne is pre-revenue, testing its product with a group of early adopters — undisclosed companies that operate everything from town cars to 18-wheelers on multistate routes. Companies with fleets as large as 1,000 vehicles use the product, said Adam Kahn, vice president of Netradyne's fleet business.
Netradyne is building its business with $16 million in funding from Reliance Industries, the largest company in India. The conglomerate — with interests in oil and gas, transportation and retail — reported total revenue of $39.1 billion in its latest fiscal year, as well as 24,000 employees.
It was June when Netradyne announced its heavyweight backer. "They don't make early-stage investments," said Sandeep Pandya, Netradyne's president, indicating that his company seems to be an exception to the rule.
The Competitors
Businesses are willing to spend millions of dollars to track what's going on with their fleets, and a good deal of that money flows to San Diego.
Privately held SmartDrive Systems had $22.7 million in revenue in 2015, up from $17.6 million in 2014. In 2015, it had 135 full-time employees in San Diego (its office is in the Miramar area). Today, the business reports more than 500 people worldwide.
Customers include Knight Transportation, a Phoenix-based trucking company which deployed SmartDrive throughout its entire fleet earlier this year. Knight (NYSE: KNX) operates more than 4,000 tractors and 8,000 trailers.
Privately held Lytx Inc. began in 1998 under the name DriveCam, changing its name three years ago. The University City-based company reported $130 million in revenue in 2015, up from $97 million in 2014. It reported 300 employees in March. US Foods Inc. (NYSE: USFD) and AmeriGas Propane Inc. (NYSE: APU) use Lytx in their distribution fleets.
Chicago-based GTCR bought a majority stake in Lytx for $550 million in a deal announced in February. The business recently moved into a bigger building.
Lytx's DriveCam system records the activity in a truck cab with two cameras: one on the driver and one on the road. If its sensors detect an anomaly such as a swerve or hard braking, it will save the video from several seconds before the incident to several seconds after. It will then send that video clip wirelessly to an analyst at Lytx, who reviews the incident and makes a report to the trucking company. A company can then discuss the incident with its driver.
Prev Next
Page 1 of 2.