Chelsea Completes $32.9M in Affordable Housing Projects
Friday, November 4, 2016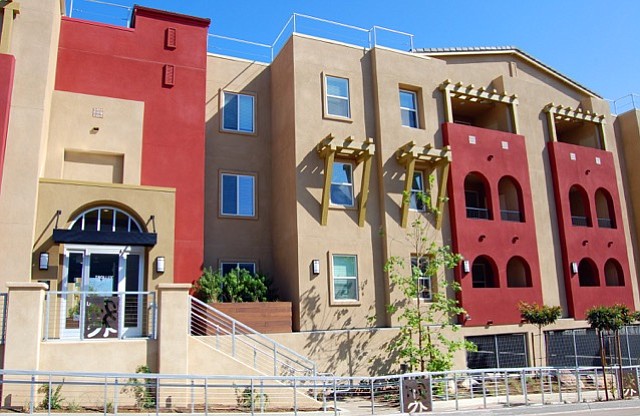 Carlsbad-based Chelsea Investment Corp. recently completed two affordable-housing projects in San Diego with a total of 80 units, representing a total of $32.9 million in development.
A company statement said the developer completed the 52-unit, $21.8 million Trolley Park Terrace at 4985 Market St. in southeastern San Diego; and the 28-unit, $11.1 million Torrey Vale Apartments at 6525 Rancho Del Sol Way, in the Pacific Highlands neighborhood of Carmel Valley.
Trolley Park Terrace is part of a larger redevelopment area spanning 60 acres of former industrial property, being overseen by the Jacobs Center for Neighborhood Innovation. It is certified Gold under U.S. Green Building Council energy efficiency programs and was built in partnership with the San Diego Housing Commission, with design by architect McKinley Associates.
Torrey Vale Apartments, which is now fully leased, was also developed with the housing commission and is the inclusionary affordable component for two market-rate projects in the Carmel Valley area by master developer Taylor Morrison. It includes private garages for residents and a rooftop solar system to power common-area utilities.
Trolley Park Terrace has after-school programs for child residents and on-site classes for adults. Both developments will serve families with household incomes that are 60 percent of the San Diego median or lower.
Founded in 1984 by CEO James Schmid, Chelsea Investment Corp. has developed 9,215 affordable-housing units at a total cost of more than $1.5 billion.