Locking In Our Gains In Cybersecurity Field
TECH: Study Finds Growing Sector Still Needs Nurturing
Originally published June 29, 2016 at 12:28 p.m., updated June 29, 2016 at 12:28 p.m.
San Diego — Like Comic-Con, there are good guys and bad guys.
But in cybersecurity, the bad guys are real, and the good guys pack more of an economic punch.
A new study suggests San Diego's cybersecurity sector has the
economic impact of 14 Comic-Cons.
Players include large companies such as Northrop Grumman Corp. (NYSE: NOC), smaller companies such as AttackIQ Inc., and organizations such as the U.S. Navy.
Local companies specializing — or with a significant concentration — in cybersecurity include CyberFlow Analytics, EdgeWave, ESET, FICO, ForcePoint (formerly Raytheon Websense), iboss Cybersecurity, Qualcomm Inc. (Nasdaq: QCOM), Security On-Demand, Sentek Global and ViaSat (Nasdaq: VSAT).
Job Creation
The sector gained a significant number of jobs in the last two years, expanding 14.7 percent to 7,620 positions, according to a recently released study from San Diego's Cyber Center of Excellence Association.
Mayor Kevin Faulconer said he was "not surprised" at the double-digit growth.
The low-key core of San Diego's cybersecurity cluster is the Navy, specifically the Space and Naval Warfare Systems Command, known for short as SPAWAR. Faulconer called SPAWAR "the best incubator you can ever have" during a news conference introducing the report June 23.
Jobs at SPAWAR grew 9.5 percent over two years to 3,390.
The number of private-sector cybersecurity jobs has grown even faster: 19.2 percent over two years. Some 4,230 employees work in 104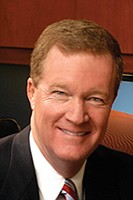 companies, said Ken Slaght, the association's president (and the retired commander of SPAWAR).
The association produced a two-year comparison because its first study was in 2014.
The global cybersecurity market is expected to grow from $77 billion in 2015 to $170 billion by 2020, according to Silicon Valley-based Cybersecurity Ventures.
The global cost of cybercrime is expected to reach more than $2 trillion by 2019, according to Juniper Research. There is no lack of things to do, City Council President Sherri Lightner remarked during the study's unveiling.
Study authors crunched the numbers and found that cybersecurity adds $1.1 billion to the San Diego region's gross domestic product.
Consider multiplier effects, however, and San Diego's cybersecurity sector turns into a $1.9 billion economic force. Multiplier effects include the effect on the supply chain (called indirect impact) and the phenomenon of employees spending their household income in the economy (called induced impact under the IMPLAN software model that study authors used).
The $1.9 billion number is what led authors to conclude the sector is worth more than a dozen Comic-Cons.
Prev Next
Page 1 of 2.