PORT: MANY STAKEHOLDERS TO WEIGH IN ON $1.2B PLAN
Developers Feel Pressure to Deliver at Seaport Village Site
Originally published July 21, 2016 at 12:17 p.m., updated July 21, 2016 at 12:17 p.m.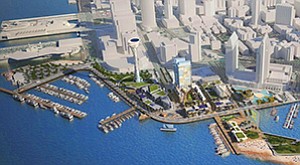 Waterfront Overhauls
Port district officials are in various planning stages on redevelopment of these key areas along the San Diego waterfront:
Central Embarcadero: Port officials are in talks with locally based Protea Waterfront Development, after choosing its $1.2 billion proposal from among six teams that submitted plans for a 70-acre property that includes the current site of Seaport Village. A final decision is expected by October on the proposal, slated to include hotels, retail, an aquarium, an observation tower and a virtual-reality cultural attraction from a division of the Smithsonian Institution.
Harbor Island: Port staff are in talks with two local finalists – Oliver McMillan Inc. and Sunroad Enterprises – to redevelop 57 acres, including properties that formerly housed rental car lots. The winning development team is expected to be chosen by fall 2016, with elements likely to include offices, hotels, retail and possibly a high-tech golf driving range.
North Embarcadero: Port officials last year chose San Diego's Brigantine Inc. to develop a new venue with multiple eateries, public viewing areas and other elements on the current site of Anthony's Fish Grotto. Work is expected to begin sometime after the current Anthony's lease expires in January 2017.
Sources: Unified Port of San Diego, local developers
San Diego — Even after more than three decades spent managing and developing major projects in San Diego and elsewhere, Yehudi Gaffen says he's rarely taken on something with the size and multi-component scope of what his development team is now proposing for the downtown waterfront...