Work Begins on Bikeway Village Project in Imperial Beach
Monday, January 25, 2016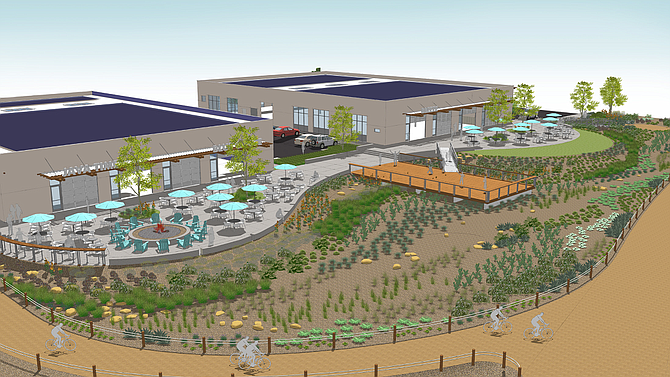 Developers and city officials have broken ground on Bikeway Village, a civic and commercial project in Imperial Beach catering to users of the nearby Bayshore Bikeway. City officials have said the initial development cost will be approximately $6 million.
A statement from general contractor TSA Contracting Inc. said the project site, at 536 13th St., is at a key transition point along the bikeway and provides an informal entrance to the city of Imperial Beach. The project will transform two large existing but underutilized warehouse buildings, to create a functional rest stop with amenities for bikers, travelers and locals.
Amenities will be oriented toward the bikeway and San Diego Bay, including a large outdoor deck with formal and informal seating, restored native wetland plantings and related landscaping. Plans also call for bicycle parking, a water bottle refill station, trail-side rest stop and public restrooms.
Approved by local and state officials in 2013, the project also involves creating in future phases an active commercial hub with a bike shop, coffee shop and other elements serving bicycle enthusiasts using the 24-mile Bayshore Bikeway, spanning much of the South Bay area. Tenants have not been announced.
City data at the time of approval indicated that developers would invest approximately $4.3 million to initially build out Bikeway Village, with the city contributing up to $1.8 million.
The project was designed by Studio E Architects and LandLab. The developer is Bikeway Village LLC, which includes property owner Rex Butler.