Software Aims to Make the Sale for the Hospitality Sector
TECH: Multilingual Platform Turns Tablets Into Commerce Concierges
Originally published January 21, 2016 at 12:35 p.m., updated January 21, 2016 at 12:35 p.m.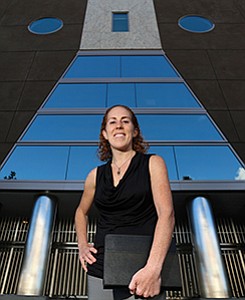 San Diego — After visiting hotels and restaurants abroad and struggling with the language barrier, Samantha Urban decided to use her skills as a software engineer to build a nimble digital menu application for the hospitality industry that could translate the content into any language and drive sales.
Urban Translations, the company she founded, uses a business's point-of-sale and property management systems and a 10-inch tablet to reach customers who want to read menu options, book appointments or see more of a hotel's amenities.
All the content is uploaded in advance in any language. The tablet also has options to increase brand awareness by allowing guests to write what they want on the tablets, to watch videos or to look at new options on a real-time updated menu.
The app is designed to capture impulse buys and can also be used on smartphones or whatever technology the client decides to use. The platform also has an option for guests to get involved in charitable activities. Companies can use more interactive and engaging displays to attract customers and then look at the platform's analytics to track growth.
Full Plate
"We take everything that our client does and we translate it into increased revenue, increased efficiency and greater customer satisfaction," Urban said. "I have more referrals than we can handle right now, which is a good problem to have."
Urban Translations also partners with point-of-sale companies (such as Agilysys) and hardware companies (such as Samsung, Acer and Archelon Enclosures) to provide a complete solution for its clients and pass on partner-level pricing.
The company is headed to Southeast Asia and the Caribbean, among other locations, and into the airline industry, Urban said. Some U.S. clients only use English on the platform and see value in the product's ability to capture impulse buys and gain revenue.
Talking the Talks
One of the company's clients, Treasure Island Hotel & Casino in Las Vegas, has four languages (English, Spanish, Russian and German) on tablets in 220 of the hotel's suites. Over time, tablets will be placed in the rest of the hotel's rooms.
"We anticipate, without question, an increase in hotelwide sales as well as in our guests' overall satisfaction during their stay — our No. 1 priority," said Don Voss, president of hotel sales and marketing at Treasure Island, in a news release. "Urban Translations' software offers guests easy-to-use tablets for immediate access to the personalized attention to detail we've always prided ourselves on."
Prev Next
Page 1 of 2.