General Atomics Awarded Contract to Sell Oil Refinery Technology to South Korea
Tuesday, December 27, 2016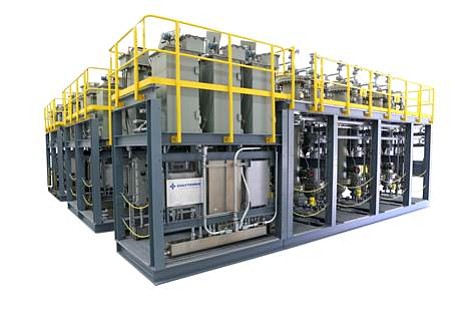 General Atomics' Electromagnetic Systems unit said it received a contract to supply heavy equipment to a South Korean oil refinery. Financial terms of the deal were not disclosed.
The equipment is a Gulftronic Electrostatic Separator system. The privately held San Diego company said on Dec. 21 that it will provide a six-module separator system for the Hyundai Oilbank Co. Ltd. refinery in Daesan, which already operates similar equipment with 12 modules. GA has "a very aggressive delivery schedule" for the equipment, said Scott Forney, the business unit's president, in a prepared statement.
The heavy equipment will expand the South Korean refinery's residual fluidized catalytic cracker. Modern refineries rely on fluidized catalytic cracker units to convert heavy crude oil into gas products. The GA equipment is a superior alternative to traditional mechanical filtration systems, the equipment-maker said.
In June, General Atomics announced that it received an order for a similar, 18-module separator for Oman Oil Refineries and Petroleum Industries Co. in Oman.