Airgain's Action Breaks San Diego's 15-Month IPO Drought
TECH: Antenna Maker Expects to Have at Least $9.8M to Work With
Originally published August 25, 2016 at 2:28 p.m., updated August 25, 2016 at 2:28 p.m.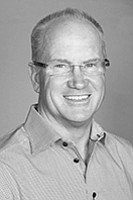 San Diego — After a 15-month absence, a rare bird called the IPO returned to San Diego.
Airgain Inc. — which makes antennas for mobile devices and household devices such as routers and set top boxes — completed San Diego's first initial public offering of the year.
It was actually the first since May 2015, when ATyr Pharma Inc. raised $75 million.
At $12 million, Airgain's IPO was smaller than the biotech's. The Carmel Valley-based antenna specialist announced Aug. 12 that it had priced 1.5 million shares at $8 per share. Northland Capital Markets and Wunderlich underwrote the offering.
Airgain (Nasdaq: AIRG) expects to have $9.8 million to work with (or $11.5 million if the underwriters exercise their options to the fullest extent) after subtracting expenses.
The business was very general when laying out its plans. Airgain said it would use its new funds for working capital and general corporate purposes, including sales and marketing, product development and capital expenditures. In a securities filing, Airgain said it might make acquisitions or technology investments — though it said it had no commitments.
Airgain is a distinctly San Diego story. The region has a lot of talent in the antenna space, said Kevin Carroll, executive director of the Tech San Diego industry organization.
Carroll also sees potential in the market, which is also served by Ethertronics.
"As long as people are dropping signals" and there are problems yet to solve, the antenna space will get attention and funding, he said.
Airgain reported a net loss of $270,000 on sales of $27.8 million in 2015. It reported net income of $3.6 million on sales of $25.5 million in 2014. Sales in 2011 were $10 million.
Chuck Myers, 54, has been chief executive of Airgain since 2011. Myers has also served as CEO of Awarepoint, a developer of location-based hardware and software for the health care industry, and founder and CEO of NetworkCar, a wireless automotive technology company. He began his career with defense tech company SAIC, or Science Applications International Corp.
Airgain describes itself as a leading provider of embedded antenna technologies used to enable high performance wireless networking across a broad range of home, business and industrial devices.
Its customers include Actiontec Electronics Inc., Arris Group Inc., Belkin International Inc., DIRECTV LLC, EchoStar Corp., Huawei Technologies Co. Ltd., Pace PLC, Sagemcom SAS and ZTE Corp.
The business has more than 300 antenna products in its portfolio and shipped 87 million antenna products in 2015.
Prev Next
Page 1 of 2.