Darryl Albertson Named Cubic Corp.'s First Diversity Officer
Wednesday, August 24, 2016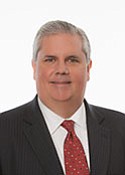 Cubic Corp. has named Darryl Albertson as its chief human resources and diversity officer.
Chief diversity officer is a newly created role in the company, and it adds to Albertson's duties. He has been vice president of corporate human resources since September 2013.
Cubic is formally making diversity part of the company culture, CEO Bradley Feldmann said in an Aug. 23 statement that announced the move. Feldmann has been CEO for two years.
The company said it was putting an emphasis on diversity and inclusion among its customers, suppliers and employees.
"Cubic is committed to diversity in its broadest sense," Albertson said in a statement. "Promoting diversity and inclusion is not only the right thing to do, but also a business imperative. One of our key strategies is to attract, develop and retain superior and diverse talent. I look forward to developing talent who are open to growing their careers at Cubic and possess a wide variety of backgrounds and styles."
Albertson previously held positions with CareFusion, Cardinal Health and Pfizer.
Cubic (NYSE: CUB), which completed its last fiscal year with $1.43 billion in revenue, makes information technology for transit operators. It also offers products and services to the U.S. military and to foreign militaries.