VC FIRM'S INVESTMENTS ARE ABOUT CONVERTING DATA INTO DOLLARS
Smart Money
Originally published August 18, 2016 at 2:54 p.m., updated August 18, 2016 at 2:54 p.m.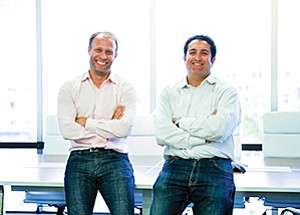 Where Does S.D. Stand With VC?
San Diego's venture capital numbers may pale in comparison to Silicon Valley, but let's be honest: Silicon Valley shouldn't be the yardstick.
VC numbers show San Diego is beating out other highly publicized hubs of startup activity across the country.
A prominent venture capital report from PricewaterhouseCoopers and the National Venture Capital Association showed a significant bump to the region's VC haul in the latest quarter, with San Diego attracting $350 million compared with $134 million in Q2 of last year.
It's important to note that Q2 included a mega-deal from Human Longevity Inc., which brought in $220 million during the quarter. Without the deal, San Diego's venture haul was consistent to 2015's numbers.
But not all venture capital reports agree on San Diego's deal volume. Mattermark, a San Francisco startup that mines and crunches internet data for investor intelligence, found more deals than the previous two reports. The company reported $463.4 million in VC money going to San Diego companies in the second quarter, up from only $164 million in Q2 2015.
And according to Mattermark's records for Q1 (not including the Human Longevity deal), San Diego is bringing in more venture capital than Houston, Dallas, and Denver-Boulder combined.
San Diego — A venture capital firm interested in funding local software startups has launched a new fund in San Diego — possibly the first of its kind...