Balboa Park Perfect Home for Smithsonian West
Originally published April 14, 2016 at 2:35 p.m., updated April 14, 2016 at 2:35 p.m.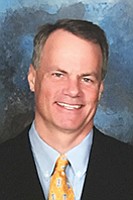 San Diego — The Smithsonian Institution in Washington, D.C., was established in 1846 for "the increase and diffusion of knowledge" and is administered by the United States government. Its collection consists of more than 138 million objects, artworks, and specimens in what is the world's largest museum and research complex — 19 museums and galleries, the National Zoological Park and nine research facilities.
The digitization of this vast collection is underway and will be a fantastic resource for all. However, there is simply no online experience comparable to standing in the presence of Abraham Lincoln's actual top hat, Edison's first incandescent bulb, the Wright Brother's 1903 Flyer, the Apollo 11 Command Module or the array of other items. In-person experiences with these treasures of humanity influence thoughts, minds, and lives. Unfortunately, less than 1 percent of this extraordinary Smithsonian collection is on display — meaning 99 percent of it sits in storage.
A Proposal
So, San Diego, we have a proposal: We provide the Smithsonian with a world-class West Coast platform to display a sizable portion of this unseen collection. We have the perfect location to do this — the undeveloped east mesa of Balboa Park. The 70-acre mesa sits between Florida Drive, Pershing Drive and Morley Field and is currently used as a parking lot for city maintenance trucks.  Part of this area remains contaminated from a sanitation landfill that was on the site from 1952 to 1974.
Let's paint the picture: With the environmental contamination cleaned up, imagine a "Smithsonian West" complex rising on Balboa Park's east mesa that architecturally incorporates the natural topography and maze of hiking trails, while also maintaining significant open space. A minimalist pedestrian suspension bridge (foot, bike and tram only) rises over Florida Canyon, connecting the mesa's Smithsonian complex to the Park Boulevard Bridge that exits at the Natural History Museum. San Diego's trolley-line finally extends the last few blocks from Park Boulevard and C Street downtown all the way to the Natural History Museum, allowing easy access to the park, museums, zoo, and the new Smithsonian — all without the necessity of a car.
The Pinnacle
Balboa Park already has a number of reputable museums, but a Smithsonian West complex would be the pinnacle of the park's collection. Think New York City's Central Park, host to the incredible Metropolitan Museum of Art and its extraordinary collection.
The potential benefits to Balboa Park and San Diego would be extensive. We would gain an extraordinary asset via the Smithsonian collection and research facilities, as well as employment opportunities and economic benefits from a world-class tourism draw. Balboa Park museums and the zoo would gain an up-close, two-way relationship to borrow from one of the Smithsonian's top-notch collections for their respective shows and an increase in attendance from the Smithsonian presence.
Prev Next
Page 1 of 2.