BIOTECH: EXPERIENCED SCIENTISTS, A REVOLUTIONARY PLATFORM WITH AN ASSIST FROM THE IMMUNE SYSTEM HELP TO TAKE ON POTENTIALLY FATAL FUNGAL INFECTIONS
Rallying The Forces
Friday, September 18, 2015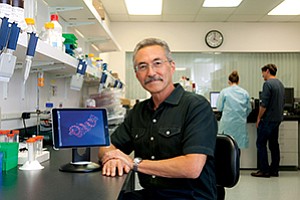 Over the past decade, many drugmakers stopped trying to fight superbugs, citing high research costs, poor returns and too much red tape.
But now, after repeated warnings about mutating strains along with some new profit incentives local biotechs are returning to the front lines.
Cidara Therapeutics is one such firm. A San Diego company chockfull of industry veterans, Cidara is developing a promising drug to address a particularly dangerous fungal infection that affects hospitalized patients.
While super strains of bacteria usually receive all the media attention, fungi can be equally deadly, especially when it enters the bloodstream.
"The consequence of getting a fungal infection can be far more dire than getting a typical bacterial or viral infection," said Jeffrey Stein, president and CEO of Cidara.
This is particularly true in patients with weakened immune systems, such as those undergoing an organ or bone marrow transplant, chemotherapy or a patient with AIDS. To make matters worse, these patients often are on more than one medication, raising the demand for anti-infectives that play nice with other drugs.
But anti-fungals are probably the most-neglected field in infectious disease, Stein said. Why? Well, because it's hard. Fungi are complex organisms.
"Developing a safe and effective drug for pathogenic fungi is really challenging," Stein said. "And in fact there are only three classes of drugs that combat fungal infections, two of which are very toxic."
Historically, anti-fungals also bring in less revenue and are expensive to develop. But changing regulatory pathways are looking more navigable, and Stein said Cidara has a plan for creating value.
Fighting Infection
To start, Cidara is developing a novel molecule drug called CD101 IV, designed to treat Candida fungal infections that have reached the bloodstream. These infections include candidemia, which is associated with extremely high mortality rates.
According to a recent peer-reviewed study, 3.5 in 10 candidemia patients die within 12 weeks of diagnosis. Further, it is estimated that each case of candidemia results in an additional 23 days of hospitalization and over $68,000 in treatment costs.
Early data suggest that treating systemic Candida infections with CD101 IV should enable early discharge from the hospital, reducing hospital costs and improving compliance for outpatients, thereby reducing the rise in drug-resistant fungal pathogens.
Cidara has received fast-track approval from the U.S. Food and Drug Administration, meaning regulators recognized the potential of the drug and intend to communicate more frequently with Cidara to speed CD101 IV's development. The company expects to have Phase 1 data by the end of this year.
But CD101 IV is just a start. The company is also developing a topical formulation of the same drug, along with a promising drug development platform that could generate multiple products for the company's pipeline expanding from anti-fungals to anti-virals and anti-bacterials.
A Breakthrough
It was partly Cidara' drug development platform, Cloudbreak, that attracted Cidara's team of anti-infective veterans, Stein said.
"It's maybe once in a career that you have the opportunity to work with a new technology that could revolutionize a therapeutic space, and that's what Cloudbreak has the opportunity to do," Stein said.
Most infectious disease is due to a weakened immune system, so the Cloudbreak platform is designed to boost the patient's immune response. Fungal infections can be particularly dangerous because fungi have evolved advanced "cloaking" mechanisms to hide from the body's immune system.
"Your immune system has evolved to be able to detect bacteria in the blood at very low levels so it can get rid of pathogenic material right away," Stein said. "But it can't recognize fungi. So on one side of our molecule is an anti-fungal drug that sticks all over the pathogen, and then on the other end of the molecule is a peptide. That peptide sends an alarm to your immune system that says, 'I'm bacteria, I'm bacteria.' This kicks the immune system into gear, and recruits the body's defenses to the site of infection. In essence, we're tricking the immune system to think fungi are bacteria."
Cidara's executive team is loaded with decades of experience in all the right areas, with backgrounds in Big Pharma, successful biotechs and venture capital.
Stein was CEO of the highly successful Trius Therapeutics Inc. from its founding in 2007 until the company was acquired by Cubist Pharmaceuticals Inc. for $707 million in 2013. During his tenure, Trius developed the antibacterial drug tedizolid (Sivextro), which received FDA approval in 2014.
From 2005 to 2010, Stein was also a venture partner at Sofinnova Ventures, one of the most active biotech venture capital funds in the region. And Stein isn't the only one with venture capital connections.
Kevin Forrest, the company's chief operating officer and chief financial officer, joined Cidara in 2014 from early-stage life science venture capital firm 5AM Ventures, where he served in various roles of management. While at 5AM, Forrest led the spinout of Epirus Biopharmaceuticals, and supported the spinout of Relypsa from Iypsa (Amgen).
Perhaps most impressive is the executive team's background in anti-infectives.
"This is a relatively small therapeutic area, so everyone had worked with each other in the past," Stein said. "We have these superstar folks a lot of people from Trius, a lot of people from Cerexa, along with people from large pharma and small biotechs."
The company's Chief Medical Officer, Dirk Thye, has over 15 years of anti-infective drug development experience, and was one of the founders of Cerexa, leading the development of ceftaroline (Teflaro) from discovery to FDA approval. Cerexa was acquired in 2007 by Forest Laboratories for $480 million.
Other Cidara execs include Chief Development Officer Ken Bartizal, ex-Trius chief development officer and former executive director and head of infectious diseases at Merck; Chief Commercial Officer Paul Daruwala, former vice president of the U.S. Viral Hepatitis Franchise at Bristol-Myers Squibb Co.; and Senior Vice President of Research Jim Balkovec, a former industry consultant in early stage programs, specializing in anti-infectives, and senior scientific director and team leader at Merck, overseeing programs in infectious disease.
Experience Pays Off
With decades of combined experience in getting a product from discovery to the market along with expertise in acquiring capital Cidara has grown from one employee at founding in 2013 to 38 employees today.
In less than two years, the company raised $32 million in a
Series A financing, $42 million in a Series B round and went public in April raising over $60 million.
The company also brought the CD101 program into the clinic by July, and is already halfway through their Phase 1 study.
"That's what happens when you get a lot of folks together who are highly experienced," Stein said. "And we expect to continue that pace of activity as we move forward."