City Council Approves Mission Valley Mixed-use Apartment Project
Wednesday, September 16, 2015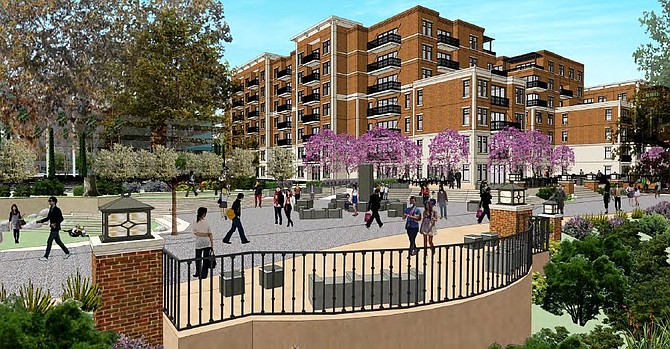 The San Diego City Council has approved plans for a $60 million, mixed-use project that includes 200 apartments, on a site adjacent to the Union-Tribune building in Mission Valley.
The project is at 350 Camino De La Reina, north of Interstate 8, and was originally proposed by San Diego's Manchester Financial Group, led by developer Douglas Manchester. The 13-acre property that includes the apartment site and two Union-Tribune buildings was recently acquired by San Diego-based BBL Commercial Real Estate for a reported figure of approximately $50 million.
BBL is now in charge of the mixed-use project and is expected to begin construction next summer. According to city documents, the project approved Sept. 15 by the City Council includes two seven-story buildings with a 212,000-square-foot parking garage, 3,000 square feet of retail space, and outdoor amenities including a 0.81-acre public pocket park and a public promenade.
San Diego-based Dealy Development Inc. has managed the project on behalf of Manchester and the new project owner, with locally based Latitude 33 providing planning and engineering services.
The development is among the first proposals by several developers to be approved in that area of Mission Valley, as the city looks to provide new residential, commercial and recreational amenities along the San Diego River.
"Great care was taken in land planning, entitlements and civil engineering for this environmentally sensitive area, giving the San Diego River the utmost respect and consideration it deserves," said Latitude 33 co-founder and senior principal planner Randi Coopersmith, in a statement.
"With the creation of a river walk promenade and pocket park, everyone in Mission Valley will benefit from the addition of this mixed-use project," Coopersmith said.