Executive Q&A: Magda Marquet of Althea Technologies and Alma Life Sciences
Thursday, September 10, 2015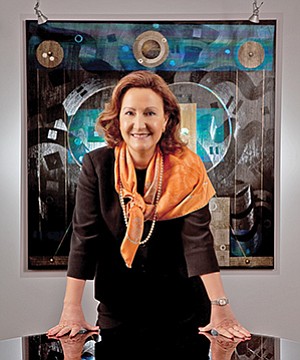 Magda Marquet sits across from me, eyes twinkling above a porcelain mug. We're at a venerable beach club in La Jolla, where she knows the whole staff by name. She says "please" and "thank you" and smiles gently as the waiter pours our coffee. As one of the most influential women in local biotech, I expected her to be louder, somehow. More demanding.
But Marquet leads with logic, not force. A scientist by training, Marquet has served the biotech community for over 25 years. Among many things, she directed development at Vical Inc., patented novel methods for DNA production and, most notably, co-founded Althea Technologies — which at its height employed over 200 people in San Diego.
She's a member and past chairman of BIOCOM, the largest biotech association in the region, and she is currently chair-elect of the board of UC San Diego Moores Cancer Center.
But Marquet's big impact to the life science sector had humble beginnings, she tells me, in a small country called Andorra. Tucked between Spain and France, the nation has a population of about 80,000 — smaller than a San Diego suburb. Marquet grew up in the beautiful, but severe Pyrenees Mountains, where winters are long and cold.
California dreaming likely took root in her formative years, she says, while the Beach Boys and the Eagles crooned about the sun and the surf.
Marquet went to college in France, at the INSA Toulouse, where she studied biochemical engineering. After graduation, she quickly found a job at the European biotechnology company, Transgene.
"At the time, it was the only biotechnology company in Europe," Marquet said. "The industry hardly existed back then, and the people working at Transgene were from all over the world."
That multicultural atmosphere fueled Marquet's California dreams, she said. But more practically, Marquet and her husband, François Ferré, were both ambitious scientists who saw opportunity in the states. Ferré would pursue his post-doctoral research at the University of California, San Diego and Marquet wanted to join the burgeoning biotech cluster.
They took the cheapest, longest flight from Paris to Brussels, Brussels to Chicago, Chicago to San Francisco, and San Francisco to San Diego.
"I still remember getting off the plane, so tired, and seeing a woman holding a sign with our names on it," Marquet said. "I thought we would only stay for a few years, until François finished his post-doc, and then we would go back. Now, we've lived in La Jolla Shores for 29 years."
Prev Next