La Jolla Planning Group Approves $65 Million Performing Arts Center
Monday, October 5, 2015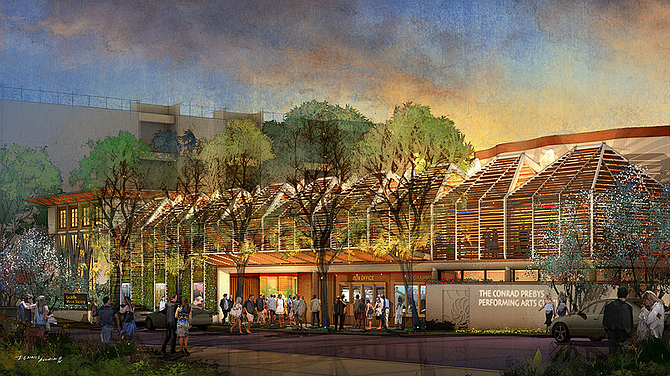 The city of San Diego's La Jolla Community Planning Association recently approved plans for the proposed $65 million Conrad Prebys Performing Arts Center, being developed by the La Jolla Music Society.
A society spokesman said plans will next be reviewed by city development services staff, with a decision expected within the next 45 to 60 days. If approved by staff, the society would then proceed with demolition and construction permits for the project at 7600 Fay Ave., with groundbreaking expected in early 2016.
A society statement said the 44,000-square-foot facility, designed by Epstein Joslin Architects, includes a 500-seat concert hall, a 150-person cabaret and multi-use space, rehearsal rooms, a large open courtyard, and offices for the La Jolla Music Society. The non-profit society will be relocating from its existing offices on Ivanhoe Avenue when the new facility is completed in early 2018.
Also known as The Conrad, the facility is named for local developer, philanthropist and arts patron Conrad Prebys. Officials said the center will host concerts and other musical performances and will also be available to rent for educational performances, corporate conferences, weddings and other special events.