Developers Begin Work on $90 Million East Village Project
Wednesday, November 4, 2015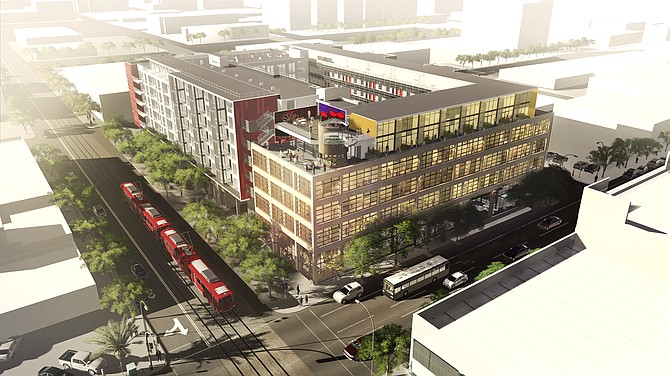 Developers have started construction on IDEA1, a $90 million, mixed-use project in downtown San Diego's East Village.
The development will include apartments, restaurants, retail and creative office space being built around an area called The Hub, an open communal gathering space. Construction barricades have been erected featuring an original artistic design composed by Visual Asylum and brought to life by students from the nearby San Diego City College, Urban Discovery Academy and New School of Architecture and Design.
The development team includes Lowe Enterprises, LaSalle Investment Management and local development firm I.D.E.A. Partners LLC. IDEA1 occupies a full city block, bounded by E, F, Park and 13th streets.
A groundbreaking was marked in a Nov. 3 public ceremony, attended by local business and civic leaders, and developers said construction will be in full swing by mid-November. Swinerton Builders is the general contractor for IDEA1, with completion anticipated in Fall 2017.
IDEA1 is one of two large mixed-use projects being developed in a part of northeastern East Village known as the I.D.E.A. District, with elements geared toward innovation, design, education and the arts. Another development team is at work on a multi-block project known as Makers Quarter.