Tandem Diabetes Care Reports Q3 Results
Originally published November 1, 2015 at 3:04 p.m., updated November 3, 2015 at 2:37 p.m.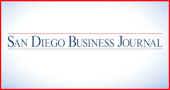 Tandem Diabetes Care Inc., medical device maker and manufacturer of insulin pumps in San Diego, reported third-quarter earnings.
The company reported a net loss of $19.6 million for Q3, compared with a net loss of $19.9 million in the like quarter last year.
Sales grew 16 percent to $15.7 million from $13.5 million in the third quarter of 2014.
In September, the company received U.S. Food and Drug Administration approval and launched the t:slim G4 Insulin Pump, a touch-screen pump with continuous glucose monitoring (CGM) integration. The company stated that distributors paused their buying decision process following its approval to evaluate the t:slim G4 Pump, and in some cases satisfy any additional insurance verification requirements. This impacted the company's sales and cost of sales in the third quarter, according to the company news release.
For the year ending Dec. 31, 2015, the company reported that its sales are estimated to be in the range of $70 million to $75 million.