Cidara Therapeutics Receives Fast-Track Status for Drug Candidate
Monday, May 11, 2015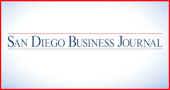 San Diego-based Cidara Therapeutics Inc. has received fast-track designation from the U.S. Food and Drug Administration for its leading drug candidate for fungal infections.
Fast-track treatment will give the drug, CD101 IV, priority review from the FDA. If the drug is ultimately approved, it will be eligible for an additional five years of marketing exclusivity.
The fast-track approval was granted because the FDA sees CD101 IV as a potential treatment for a "qualified infectious disease" — in this case, candidemia, a potentially deadly fungal disease that is spread through the bloodstream.