TECH: THROUGH CROWDSOURCING, THE RESULTS CAN BE SHARED
Diagnostic Device Gives You Picture Of What's In That Produce
Friday, March 20, 2015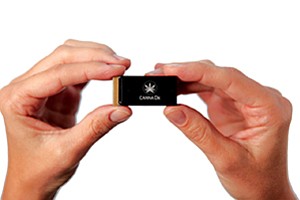 Whether it's worry over pesticide residue or concerns about toxins leaching into the soil, consumers want to know what's in their food.
Food labeling and organic certifications have helped to ease consumer anxiety, but ultimately people have had to trust that regulatory agencies and food manufacturers have their best interests at heart — until now.
San Diego startup CDx Inc. is putting power in the hands of the individual with its latest consumer device called MyDx. Loosely translated, MyDx means "my diagnostic" — a way to test material for specific markers. The device is small enough to fit in your back pocket, and contains the power of a personal laboratory.
Simply punch a hole in a leaf of spinach or kale, pop the sample into the device drawer and wait as the mini lab begins to whir. Within three minutes, a full chemical profile will appear on your smartphone's corresponding app.
Analysis on Aisle Five
The app lets consumers record notes about the food they test, keeping a log of the best quality foods at their local grocery stores.
"You can test spinach from Vons, spinach from Ralphs and spinach from Sprouts, and then find out the pesticide level of each," said Daniel Yazbeck, CEO and founder of CDx. "Then consumers can choose to share that information to the community database so that we can crowdsource that information."
Yazbeck said the company will focus first on accumulating a database of the "dirty dozen" — a list of foods with the highest pesticide residues such as peaches, celery and spinach.
Sense and Sensimilla
The MyDx isn't a single-indicator device. The technology uses more than one sensor, and each acts as an "electronic nose" looking for specific red flags. The latest sensor to test food for pesticide residue is called "Organa" and should be fully developed by the end of 2015.
Founded in 2013, CDx first developed the "Canna" sensor designed for patients to test the safety and potency of cannabis. Yazbeck, who has an advanced degree in medicinal chemistry, said the Canna sensor can detect the presence of important compounds in medical cannabis, such as THC and CBD, as well as providing a detailed chemical profile of any given sample.
As users log strains of cannabis, they also can share how the medicine affected their symptoms — creating a useful database pairing symptoms with strains of marijuana.
To date, 23 states, along with the District of Columbia, have legalized medical marijuana and two have legalized recreational use. The Washington Post recently reported that the industry could be worth $35 billion by 2020 if marijuana is legalized at the federal level.
Prev Next