WEALTH: LINDEN AND NEAL BLUE QUIETLY STEER GA AND OTHER BUSINESS PURSUITS
Behind the Controls
Friday, March 20, 2015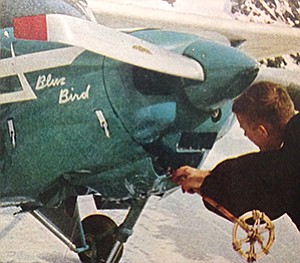 Both sons were accepted to Yale. With their love of aviation and some salesmanship, they landed on the cover of Life Magazine. A 12-page photo spread documented "the Flying Blue Brothers" and their 110-day tour of Central and South America in a single-engine Tri-Pacer (provided by aircraft builder Piper Corp.) during the summer of 1956. The Blues crossed the Andes nine times by flying over mountain passes. They met members of a headhunter tribe and less colorful locals, expatriates and the president of Nicaragua.
After graduation, the Blues sought their fortunes in farming and ranching in Central America, as well as real estate in the United States. Their projects included a cocoa and banana plantation in Nicaragua.
It was a time of change in Central America. Fidel Castro's regime took over Cuba in 1959, and the U.S.-Cuba relationship deteriorated in the months and years that followed. Nevertheless, the air route to Central America naturally went over Cuba. In a 2005 interview, Linden Blue recalled being en route from the United States to Nicaragua in 1961, having filed the proper flight plan, and getting radio instructions from Cuba telling him to land in Havana. Blue said no, that he would return to Key West. He soon found himself flying beside Cuban fighter planes. Blue was forced to land and spent 12 days in jail. The Cubans finally let Blue go, but less than two weeks later, CIA-backed insurgents from Central America attempted to invade Cuba in what came to be known as the Bay of Pigs incident. Blue told his interviewer from Airport Journals that he eventually learned that all of his Cuban cellmates had been killed.
Part of the Blues' younger years were spent in the U.S. Air Force. Linden S. Blue was at one point drawn to the family business of holding elected office. He served for a time on the Denver City Council, but then turned his attention to the aviation industry. He held high-level posts at Gates Learjet Corp. before becoming CEO of Lear Fan Ltd. Blue also served as CEO of Beech Aircraft Corp. and as a director of Raytheon Co. (NYSE: RTN).
Friend Peter Farrell calls Blue humble and hard-working.
"He's got a huge amount of integrity," Farrell said.
Family Dynamics
From the outside, the Blues' intertwined lives seem to be a mixture of work, intellectual stimulation and adventure — usually with airplanes thrown into the mix. One of the brothers' current businesses is jetCenters of Colorado, a fixed base operator providing fuel, food, hangar space and other services to small plane pilots at Denver's Centennial Airport, Colorado Springs and Ft. Collins. Separately, Linden Blue has taken a shot at building business jets through Spectrum Aeronautical of Carlsbad. Like Predator, the business jets are made of composite materials, meaning they are lighter and more fuel-efficient than their competitors. Spectrum was particularly active in 2006 and 2007. Today, the business is dormant as it waits for more funding, said Austin Blue, Linden Blue's son and Spectrum's president. "We're still hopeful, though," Austin Blue said.