WEALTH: LINDEN AND NEAL BLUE QUIETLY STEER GA AND OTHER BUSINESS PURSUITS
Behind the Controls
Friday, March 20, 2015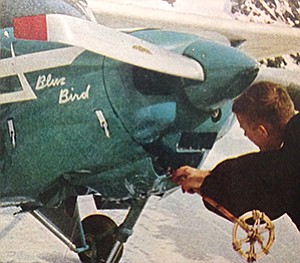 http://bit.ly/1ENJTKw.)
Splitting Atoms From Chevron
General Atomics deals in nuclear reactors and other exotic technology. In addition to fine-tuning conventional reactor technology, the business has been working for decades to create efficient nuclear fusion. Its broad technology portfolio also includes an electromagnetic catapult as well as arresting gear to launch aircraft from U.S. Navy carriers and to stop the planes when they land.
General Atomics Aeronautical Systems Inc. — technically a GA affiliate and now based in Poway — put the Predator family of unmanned spy and strike aircraft into the hands of the U.S. armed services, the CIA, and certain foreign governments. The systems let pilots fly the aircraft, by satellite, from the other side of the world. GA also builds sensors for such aircraft.
Together, the businesses employed 6,700 people in San Diego in 2014, up from 6,300 the previous year, according to the San Diego Business Journal's 2015 Book of Lists.
The Blues bought General Atomics in 1986. Defense contractor General Dynamics founded GA in 1955 and ownership later passed to Gulf Oil Corp. Chevron bought Gulf in 1984 and — apparently seeing a need to focus on the core oil business — sold GA to the brothers in 1986. Some accounts say the Blues paid $50 million, others $60 million.
In 2008, Fortune Magazine estimated that GA's assets were worth billions, a fact that could not be verified independently.
It is also unclear how many members of the Blue family own stakes in General Atomics and Cordillera. It's unclear whether the companies have any debt and if so, how much. Someone had to fund the expansion of its factory to turn out Predator aircraft for its growing list of customers.
By one measure, GA is the biggest defense contractor in San Diego County. The business was the top local recipient of defense contracts in the Pentagon's 2013 fiscal year, winning $2.1 billion of work, according to the 2014 study published by the San Diego Military Advisory Council, a civic-military group. That measure, however, is a bad stand-in for annual revenue, as defense contracts frequently stretch over many years.
Colorado Roots
Born into a prosperous and politically astute family in Colorado, the Blue brothers seem to have handled their investments deftly in the decades that followed.
The Blues seem to owe their business sense, and their connectedness, to family. Mother Virginia Neal Blue was a partner in the Denver residential real estate firm of Blue and Blue, and was the first woman elected to executive office (treasurer) in Colorado.