BIOTECH: TALENT LIKELY TO START NEW VENTURES
Sale of High-Flying Receptos Could Fuel More Innovation
Thursday, July 16, 2015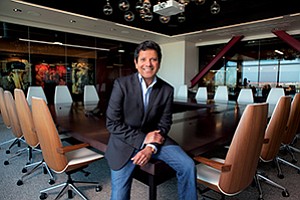 In one of the largest sales of a San Diego biotech to date, New Jersey-based drug maker Celgene has agreed to purchase Receptos Inc. for $7.2 billion.
Experts say the infusion of cash and reshuffling of talent could result in a new crop of startups in San Diego.The current bidder, Celgene, has grown to be one of the most successful biotechnology companies in the country, based largely on its blockbuster cancer drug, Revlimid. But Revlimid will eventually lose patent protection, and the company has been aggressively looking to expand its business and diversify.
If the deal goes through, Celgene will gain Receptos' much-anticipated drug that experts say could yield a number of possible applications.
The drug, Ozanimod, is now in late-stage clinical trials as a treatment for multiple sclerosis and ulcerative colitis, with an approval possible for MS as early as 2018. Celgene has estimated that Ozanimod could bring in as much as $6 billion in annual sales.
The drug has helped propel Receptos into the international limelight, boosting the company's valuation into the billions since its initial public offering in 2013.
Receptos, founded in 2009, first attracted global attention late last year when positive trial data boosted stock 41 percent overnight from $67 per share to $96. The stock has climbed steadily ever since, selling for $207 per share just before the acquisition announcement.
Celgene agreed to pay $232 per share for Receptos, valuing the deal at $7.2 billion, excluding Receptos' cash on hand. That's larger than all but a few local biotech purchases, the biggest of which was the $13.6 billion purchase of Carlsbad's Life Technologies by Thermo Fisher Scientific in 2014.
Receptos' stock was a favorite of Jim Cramer, the TV personality of CNBC's Mad Money and founder of the stock watch website TheStreet. Cramer rained compliments on social media following the announcement.
"Receptos did it… So proud of them!" Cramer tweeted Tuesday. "And the market will love Celgene, too. That's how good Receptos is. $232! Wowza! I know I've been pushing this one endlessly. Thank you Faheem Hasnain!"
Executives Cash Out
Receptos' CEO Hasnain is highly regarded in the industry, and appeared on Cramer's show on more than one occasion. Before Receptos, Hasnain led Facet Biotech, which sold for $450 million cash to Abbott Laboratories in March 2010. Before that, Hasnain served in executive roles at Biogen Idec Inc., Bristol Myers Squibb and GlaxoSmithKline.
It is not known whether Hasnain will remain at Receptos following the acquisition, but some industry experts are doubtful considering the actions that typically follow a takeover.
Prev Next