New Global Headquarters More Than Doubles Lytx's Space
Sunday, February 22, 2015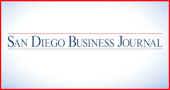 Lytx Inc., a provider of video-based driver safety technology, celebrated a grand opening at its new global headquarters in San Diego at 9785 Towne Centre Drive in UTC.
The new 75,000-square-foot headquarters provides 67 percent more space than Lytx's previous home, the company said.
According to Lytx, the new building has a host of features, including more than 40 collaboration spaces, a state-of-the-art lab for research and engineering, and a fully equipped demonstration room. The campus has views and outdoor spaces to take advantage of the San Diego climate.
"The new headquarters is simply the beginning of a transformative year for Lytx," said Brandon Nixon, CEO and chairman of Lytx. "We have just celebrated historic milestones of more than 200,000 subscriptions in service, and experienced a 150 percent increase in employee growth. We are now positioned to further accelerate our growth and continue to be the go-to global partner in video-based driver safety technology."
According to Lytx, the fourth quarter of 2014 marked its 25th consecutive quarter of double-digit growth. The company's technology is in more than 1,300 commercial and government fleets worldwide.
A ribbon-cutting ceremony held at the new campus was attended by Rep. Scott Peters, San Diego City Council President Sherri Lightner, San Diego Regional Chamber of Commerce CEO Jerry Sanders, and other dignitaries and guests.
Lytx was founded in San Diego in 1998.