Tickets Are Available for San Diego Business Journal's 2016 Economic Trends
Friday, December 18, 2015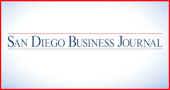 Seats are still available for San Diego Business Journal's 2016 Economic Trends event January 7, 2016, at Paradise Point Resort & Spa.
Participate in the first major event that evaluates the trends and economic results of 2015 along with projections and indicators for 2016. A panel of industry experts, led by Moderator Leon Shapiro of Vistage, will discuss topics including the U.S. economic environment, San Diego's commercial and real estate markets, and new tax laws.
Support for this event was provided by sponsors Barney & Barney, Cushman & Wakefield, Kaiser Permanente, Moss Adams LLP, Robert Half, Vistage and Wells Fargo.
Reserve your space today at www.sdbj.com/bizevents or contact the events department at (858) 277-6695.