ECONOMY: KEY SECTORS PROVIDE PAY AND PROGRESS FOR S.D.
EARNING POWER
Friday, April 24, 2015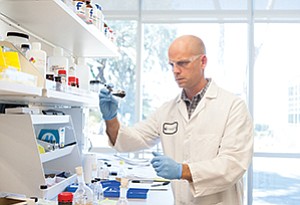 The region's life science and technology industries are continuing to see sustained growth, according to a recent jobs report. It's a welcome trend that economists say could strengthen San Diego's resilience during tough economic times, though concerns remain about a widening wage gap.
"We've been able to put ourselves at the forefront of some of the key technological innovations and trends that will shape the coming years and generate future employment," said Alan Gin, an economics professor at the University of San Diego. "I'm talking about things like biotechnology, telecommunications, security and green technology. Now we're adding 'blue industries' and strengthening San Diego in terms of maritime industries."
San Diego's labor market has grown considerably over the last few years, with the professional, scientific and technical (PST) services sectors seeing remarkable growth and climbing wages, according to U.S. Census Bureau data compiled by the San Diego Regional Economic Development Corp. Employment in biotechnology, biomedical products, clean-tech and information technology all fall within these sectors.
Employment in San Diego's PST sectors grew by 6.6 percent since last January, compared with the national average growth rate of only 2.3 percent. The industry has been a bright spot among employment data for years, accounting for nearly 20 percent of all job growth in San Diego from 2010 to 2014, according to Census Bureau data compiled by the EDC.
More impressive than jobs added to the region is how quickly wages are climbing in these sectors. Wages for the PST industries grew 35 percent in the past four years, with an average annual wage of $112,152. In comparison, health care, which accounted for more than a third of all local job growth and more than half of middle-wage jobs added in the region, grew only 5 percent over the same period with an average salary of $51,036.
The highest-paying industries in the region — utilities, finance, PST services, information and manufacturing — are also the ones seeing bigger and bigger paychecks each year. Low-wage industries have either grown at less than half the rate of high-wage industries, or remained stagnant.
Spending Habits
It may be a good sign that the region's high-paying industries are experiencing accelerated wage growth. Some would even argue that it is economically favorable if the highest wages are growing the fastest, as that means the amount of money available to spend in the region is increasing.
But Michael Combs, the research manager for the San Diego EDC, said there's more to consider.
Prev Next