Green Flash Debuting New Tasting Room at Poway Facility
Thursday, April 9, 2015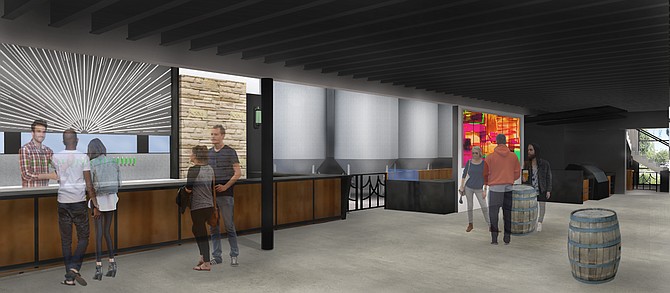 San Diego-based Green Flash Brewing Co. plans a May 16 opening for Cellar 3, a new tasting room and specialty brewing facility that it will operate in Poway.
Company officials said the 12,000-square-foot industrial space, at 12260 Crosthwaite Circle, will have 2,500 square feet reserved for a tasting room and intimate beer garden. The new facility will be focused on "craft beer innovation through barrel-aging and wild yeast experimentation."
Green Flash recently announced the debut of a new series of barrel-aged beers called Cellar 3, for which the new tasting room is named. Customers at the new tap room will be able to sample the Cellar 3 beers, which are being produced at the Poway facility.
The new tasting room will have 30 beers on tap and space for up to 155 guests, and visitors will be able to observe barrelmaster Pat Korn and his team at work. A focal point of the Cellar 3 design will be a "deco-inspired" metal starburst façade behind the bar, situated against a bustling backdrop of stacked barrels and related production equipment.
The facility will also have a gallery of curated artwork that is slated to rotate quarterly. Green Flash also plans to post a food truck at the facility, with items including sandwiches, chips and cheese platters.
Officials said Green Flash's current main facility in Mira Mesa will remain the national hub for its products.
Led by co-founders Mike and Lisa Hinkley, Green Flash is the local region's fourth-largest craft beer maker and ranked at No. 48 on a list of the nation's 50 largest brewers based on 2014 sales volume, published recently by the Colorado-based Brewers Association.