Envision Solar Reports High Level of Sales
Tuesday, October 21, 2014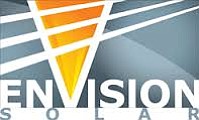 Envision Solar International Inc., a San Diego maker and provider of solar energy systems, said it received multiple purchase orders for its solar products in less than 30 days that totaled more than $2 million.
CEO Desmond Wheatley said the orders represent the highest sales level in a 30-day period to date, and continues a trend of increased sales this year.
The new purchase orders for solar trees and electric vehicle recharging stations come from Fortune 500 companies, who are choosing the latest products because they are the best in the industry and fill the needs that others cannot., Wheatley said.
Frost & Sullivan forecast that EV charging infrastructure deployments will grow at a compound annual growth rate of 128 percent over the next five years.