Bridgepoint Education Reports Revenue Down Nearly 21% for 2013
Tuesday, March 11, 2014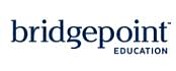 Bridgepoint Education Inc., the San Diego operator of Ashford University and the University of the Rockies, reported lower revenue and profit for the fourth quarter and 2013.
Fourth quarter revenue was $163.5 million, compared with $209.4 million in the like quarter of 2012.
Bridgepoint said it took a net loss in the fourth quarter of $6.5 million, compared with net income of $18.4 million for the like period of 2012.
For the full year, Bridgepoint reported revenue of $768.6 million, down about 21 percent from 2012. Net income for the year was $41 million, down 67 percent from the net income in 2012 of $123.4 million.
Total student enrollment at Bridgepoint's two colleges at Dec. 31 was 63,624, down by 23 percent from the 81,810 students enrolled at Dec. 31, 2012.
Shares of Bridgepoint, traded on the New York Stock Exchange under BPI, were at $16.87 at midday March 11, down 11 percent from the prior day's closing price. Its 52-week range is $9.62 to $20.33.