Excel Trust Reports Revenue Increase for Second Quarter
Thursday, July 31, 2014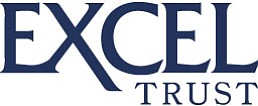 San Diego-based Excel Trust Inc. saw total revenue rise 14 percent from a year ago, reaching $30.6 million in its second quarter ending June 30.
The real estate investment trust reported a net loss attributable to common stockholders of $839,000. That compared with net income of $623,000 for the year-ago quarter.
Adjusted funds from operations, an industry-recognized supplemental metric gauging the performance of real estate portfolios, totaled $12 million for the period, up 12 percent from a year ago.
Chairman and CEO Gary Sabin said the company capitalized on its investment grade ratings by issuing $250 million in long-term, unsecured debt in May. The company in June raised approximately $161 million in equity through a common stock offering, to help purchase several properties currently under contract.
The company also declared a third-quarter 2014 dividend of $0.175 per share of common stock, equating to an annualized dividend of $0.70 per share.
Headquartered in Rancho Bernardo, Excel Trust (NYSE: EXL) invests primarily in shopping centers and free-standing retail properties.