'Mister A's Building' at Bankers Hill Gets New Owners
Tuesday, July 29, 2014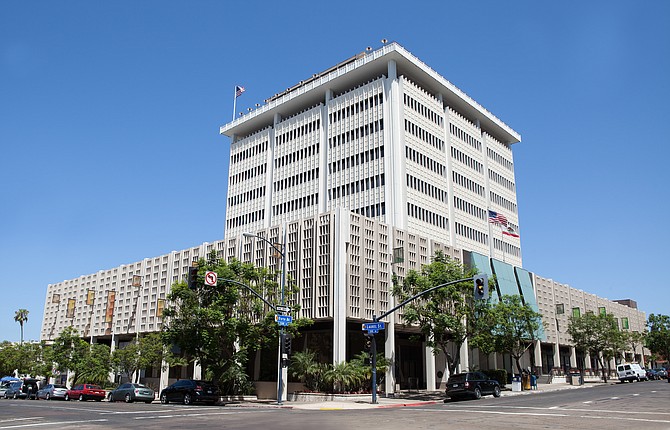 San Diego-based investment firm BBL Commercial Real Estate and Westbrook Partners of New York City have purchased the Fifth Avenue Financial Center in Bankers Hill, better known locally as "The Mister A's Building," BBL officials announced.
The parties did not disclose a price, but the figure was $39.25 million, according to public-records data.
The 13-story office building, at 2550 Fifth Ave., was sold by San Diego-based Alessio Investment Co. It was built in 1965 by prominent San Diego businessman, banker, restaurateur and racetrack operator John Alessio, and has since remained in operation by the Alessio family.
BBL officials said the building is currently 74 percent leased, with tenants including the restaurant Bertrand at Mister A's, with its well-known panoramic rooftop views of the surrounding area.
The 150,000-square-foot building was the first high-rise to be constructed in the Bankers Hill neighborhood, adjacent to Balboa Park, and was among the few towers located in the city at the time it opened.
"As a native San Diegan, this is an incredibly exciting acquisition since the tower is one of the most recognized buildings in the city and nearly every long-time resident has a fond memory or story related to it," said BBL President Casey Brown, in a statement. "We look forward to positioning the building to once again be a vibrant and exciting destination while embracing and respecting its past."
BBL and Westbrook plan a multimillion-dollar renovation of the building's office and retail amenities, with street-level space to get a more pedestrian orientation. Plans call for adding a modern 5,000-square-foot restaurant, and possibly a café, pub or brewery.
Bertrand at Mr. A's will remain the anchor restaurant tenant. Marketing of office and retail space will be handled by Andy LaDow, Michael Burton and Danny Fitzgerald, of brokerage company Cassidy Turley.
"This is a bittersweet moment for me," said Alessio, in BBL's statement. "The building is not just a part of our family history, it is a significant part of the city's history."
Alessio said BBL's long ties to the local region were a factor in his family's decision to "pass the baton" to new owners.
"We've had many offers from investors over the years, but it was important to us that the building retain its local roots."