New Anti-SeaWorld Ad at Airport Targets Comic-Con Visitors
Tuesday, July 22, 2014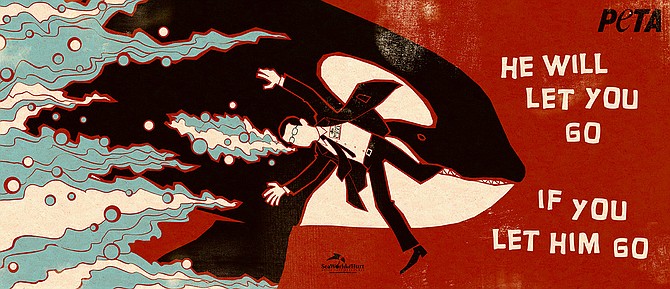 Animal-rights group PETA and the parent of SeaWorld San Diego are again squaring off over a controversial advertisement at San Diego International Airport, this one timed to coincide with the start of Comic-Con International.
The latest, a $24,000 installation in Terminal 2, is a 20-foot-long graphic cartoon depicting a captive performing orca with SeaWorld's CEO in its mouth. It also includes the words, "He will let you go if you let him go."
Officials of People for the Ethical Treatment of Animals said the project is a joint venture between PETA and Bluewater Productions Inc. of Vancouver, Wash., an independent producer of comic books and graphic novels. It was unveiled just before the start of Comic-Con International, slated to bring 130,000 people to San Diego Convention Center July 24-27.
"Comic-Con fans love blood and guts when they're fake, but at SeaWorld, it's all too real for comfort," said Bluewater founder Darren Davis, in a PETA statement. "The orcas are desperate to be free. That's why trainers have been killed, and that's what we're depicting in this campaign with PETA."
It is the second anti-SeaWorld ad posted at the airport by PETA, in response to allegations of mistreatment of killer whales raised in the documentary Blackfish. The film also examined circumstances surrounding the 2010 death of a SeaWorld trainer working with orcas at SeaWorld's Orlando park.
"Even by PETA's standards, this ad is as offensive as it is tasteless," said officials of Orlando-based SeaWorld Entertainment Inc., in a company statement. "PETA isn't concerned with actually helping animals."
SeaWorld called PETA "a radical organization" that invests in "publicity stunts" to promote its agenda. "The truth is that our killer whales are healthy and happy, and thrive in our care," the statement said. "The real animal welfare organization is SeaWorld, not PETA, and our trainers, aviculturists, animal-care staff and veterinarians are the true advocates for animals."
In May, PETA prevailed in its effort to post at the airport an ad featuring actress and San Diego native Kathy Najimy, calling on local visitors to avoid SeaWorld San Diego because of the park's use of killer whales in performance shows. PETA sued after the airport and its ad agency initially refused to display the ad.