Qualcomm Inc. Declares Dividend
Wednesday, January 22, 2014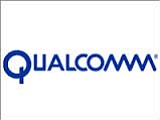 Wireless and mobile technology specialist Qualcomm Inc. declared a dividend of 35 cents per share Jan. 22. The company said that its dividend is payable on March 26 to stockholders of record March 5.
Qualcomm (Nasdaq: QCOM) had a market capitalization of $128 billion on Jan. 22, with shares closing at $75.78. In November, the company reported $29.4 billion in cash, cash equivalents and securities.
The company will report first quarter earnings on Jan. 29.
SDBJ Staff Report