SeaWorld Entertainment Expects Record Revenue of $1.46B for 2013
Monday, January 13, 2014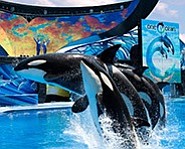 SeaWorld Entertainment Inc. announced preliminary revenue results for fiscal 2013, estimating its revenue at $1.46 billion.
That figure would represent a full-year record for the company in its 50-year operating history. SeaWorld (NYSE: SEAS) credits record fourth-quarter total attendance at the company's parks in San Diego, San Antonio and Orlando, Fla., for the revenue increase.
The company expects to release final fourth-quarter and fiscal 2013 results in March.
"We are very pleased with our fourth-quarter performance, particularly for the SeaWorld-branded parks in Orlando and San Diego, which helped us to achieve record revenue for the year," President and CEO Jim Atchison said.
SDBJ Staff Report