Bridgepoint Education Cutting Jobs, 91 Positions in San Diego
Thursday, February 6, 2014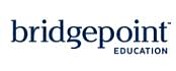 Bridgepoint Education, the San Diego public company that operates two colleges and provides most of its service through online channels, said it eliminated 117 jobs across several units including 91 positions in San Diego.
The eliminated positions included a variety of job titles but mainly affected such services as marketing, information technology and human resources, said Bridgepoint spokeswoman Shari Winet.
"Because the number of students at our academic institutions has gone down we needed to align things operationally," Winet said.
At the end of the third quarter, Bridgepoint reported its total student enrollment at Ashford University, based in Iowa, and the University of the Rockies in Colorado, was 68,566, down from the third quarter in 2012 when it had 91,358.
In addition to the 91 jobs eliminated locally, Bridgepoint said it cut nine in Iowa, two in Colorado, and 15 in other states.
At the end of December, Bridgepoint reported total employment, not counting faculty positions, of 3,400. At its peak at the end of 2011, the company had more than 5,000 employees, according to a securities filing.
Bridgepoint doesn't reveal its local employment totals but its staff occupies three sites in the county, a headquarters complex in Sabre Springs, a building in Kearny Mesa, and another in downtown San Diego.