Realty Income Stock Offering Raises $528.5 Million
Tuesday, April 1, 2014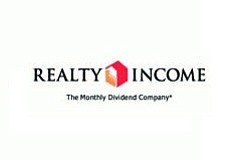 Realty Income Corp. (NYSE: O) has closed on a public stock offering that raised approximately $528.5 million in net proceeds, after underwriters exercised options to purchase an additional 1.8 million shares, company officials said.
The original offering called for 12 million shares to be sold at a price of $39.96 per share, for expected net proceeds of $459.5 million after expenses and before underwriters' exercise of their purchase option.
Officials of the Escondido-based company said net proceeds from the sale of the 13.8 million shares will be used to repay borrowings under the company's $1.5 billion acquisition credit facility, which is used to fund real estate acquisitions.
All of the shares were sold directly by the company. The real estate investment trust, founded in 1969, owns a national portfolio of retail, industrial and related commercial properties.