PROPERTY: TIGHT SUPPLY, ACTIVE LENDERS, HUNGRY INVESTORS DRIVE SECTOR
Activity Swirls Around the Multifamily Market
Monday, May 6, 2013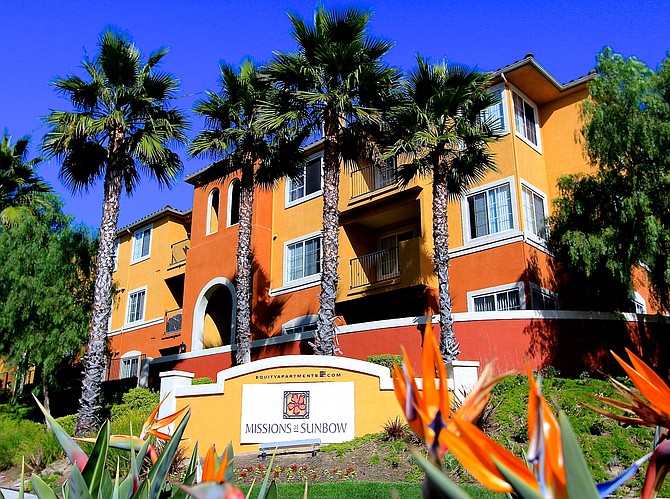 Lenders, investors and landlords continue to capitalize on San Diego County's apartment fundamentals in the early months of 2013, with high demand and limited supply driving rents and property prices upward.
"For the Class A and B properties, there are definitely more buyers than sellers on the market — by a factor of two to four depending on the location," said Robert Vallera, senior vice president in the San Diego office of Voit Real Estate Services.
Vallera noted that prospective investors see the local apartment market as a safe, steady-return alternative to stock market, bank deposit and other investments, a trend likely to stay in place as long as interest rates remain low and there are no major shocks to the local or national economy.
According to a recent report by Cassidy Turley San Diego, the local region saw nine properties of 100 units and larger change hands during the six months ending March 31, totaling $392 million, with 77 transactions of properties under 100 units fetching $223 million countywide.
For deals of $5 million and higher, the local transaction volume for that six-month period more than doubled that of the previous six months, a trend that the brokerage firm said is expected to continue in coming months.
More Lenders
Ray Adams, senior vice president of capital markets with Cassidy Turley San Diego, said well-qualified borrowers nationally are finding numerous avenues for financing their investments, even though the limited availability of product for sale in San Diego is driving up prices.
"There are some banks in the market now that weren't in the market a year ago," Adams said. "There are some lenders that were just dipping their toes in the market a year ago, but who are now much more aggressive about lending in multifamily."
The trends are being driven by still limited construction of new apartments in San Diego County. Also, job market improvements and rising prices for single-family homes are spurring more people to seek out apartments.
In its recently issued second-quarter apartment market report, the brokerage firm Marcus & Millichap projected that developers will deliver 2,600 apartments to the San Diego County market during 2013, down from the 2,700 units that came online last year. The 1.1 percent boost in the local inventory is unlikely to alter the supply-and-demand fundamentals.
The region is expected to finish 2013 with an overall apartment vacancy rate of 4.3 percent, among the lowest for U.S. metro markets, and with the average monthly rent at $1,464, up 4 percent from 2012. At the end of the first quarter, the average was $1,417, up 3 percent from a year ago.
Because of a shortage of attractive properties up for sale in central and coastal markets, Marcus & Millichap said prospective buyers are expected to continue seeking out investments in the outer reaches of the county. Properties along the Interstate 15 corridor and inland portions of North County are likely to generate "the highest level of interest since the last real estate upswing."
Multiple Offers
Properties placed up for sale throughout the region are frequently getting multiple offers, and experts said current fundamentals will likely be in place for some time, especially if the region retains its high barriers to entry, including limited land availability and stringent standards for approval of new projects.
Chris Zorbas, vice president of investments in Marcus & Millichap's San Diego office, noted that low interest rates are not only giving prospective buyers low-cost financing options, but also helping current apartment owners retain money-generating properties by refinancing their loans at lower rates.
"The investors are hungry to put their money to work," Zorbas said. "These other investments like cash accounts are paying next to nothing in the current market."
According to local brokerage firms, big apartment purchase deals of the first quarter included the $90 million acquisition of the 336-unit Missions at Sunbow in Chula Vista, by San Diego-based R&V Management Corp.; the $18.8 million purchase of the 128-unit Oakbrook Ridge Apartments in Spring Valley, by Charles F. Kreutzkamp; and the $11.3 million acquisition of the 86-unit The Meadows Apartments in Vista, by an Encinitas-based limited partnership.