$46M in Lease Revenue Refunding Bonds Rated A+ By Fitch Ratings
Friday, June 14, 2013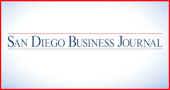 About $46 million in new lease revenue refunding bonds the City of San Diego plans to issue this month were rated A+ by Fitch Ratings.
Some $40 million in bonds is tabbed for capital improvement projects and the Old Town Light Rail Extension, while $6 million is for Balboa Park/Mission Bay refunding, according to Fitch.
Fitch likes the city's overall financial health. "The city benefits from a diverse economy, improving key revenue streams, declining unemployment rate, a recovering tax base, and its desirable location as a place to live and work or visit," the report said.
The report cited the city's projected budget surplus of $17 million for the 2013 fiscal year that ends June 30, and higher reserve balances in the past two years.
The city also plans to issue more debt going forward. Fitch said to address a capital backlog of $898 million, excluding water and sewer system needs, it'll need to issue $80 million to $90 million in lease revenue bonds annually from 2014 to 2017. It also may act as a conduit issuer for $520 million in bonds to expand the San Diego Convention Center if all the project approvals are given, Fitch said.
And to comply with a tougher storm water permit the city will have to spend an estimated $1.5 billion to $2.7 billion over the next 20 years, some of which will be funded from bonds repaid from stormwater fees and potentially, the city's general fund, the report said.
Despite all that spending and borrowing, Fitch called the city's overall debt burden "moderate at $4,090 per capita."
— SDBJ Staff Report