PROPERTY: BUYERS ARE READY TO MAKE THE MOVE TO LUXURY HOUSES
High-End Homes Are Hot
Monday, June 10, 2013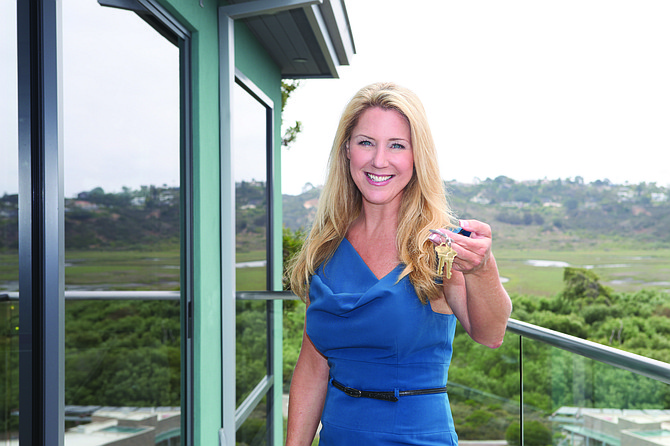 "Across Southern California, sales of mid- to high-end houses were posting the biggest (volume) increases," said Dataquick analyst Andrew LePage. "That was because those numbers were coming from a low level and there was a lot of pent-up demand."
In San Diego from January through April, sales of houses above $1 million hit 713, an increase of 45 percent over the number in the like four months of 2012, Dataquick said.
Yet, agents active in the luxury market said the $1 million price threshold won't qualify for houses in the most desirable places. "In Rancho Santa Fe, the luxury market is above $3 million," Hagan said. "Actually at $2 million, you're looking at tear-down."
A house on a quiet street within the Covenant (the original master planned community) buyers would have to pay $750,000 to $850,000 an acre and there's a two-acre minimum, she said.
In the most sought-after ZIP codes in San Diego County (generally La Jolla, Del Mar, the North Coast and Rancho Santa Fe) buyers will need to spend "at least $3 million," she said.
Christine Baker, an agent with Willis Allen Real Estate in San Diego, said in the last year she's noticed a shift in buyers who became more confident about their situation and about the general state of the economy, leading to increased buying activity.
A property that Baker represented in Mission Hills recently went into escrow with the buyers offering cash at close to the list price of $1.4 million, she said.
While the house purchase activity is clearly on the rise, many owners are reluctant to put their homes up for sale because they either can't find a move-up property or have trouble in securing financing, Baker said.
"What I hear a lot of people say is, 'I'd love to sell but where am I going to go?'" Baker said.
There are also many owners who continue comparing what their house's market value is today to what it was before the recession, and dissatisfied with the comparison, aren't inclined to sell, she said.
Even if they could sell their current home, many would-be sellers are unable to come up with the necessary financing for their next property, agents said.
"Loans are still difficult to come by, even if you have high credit scores," Hagan said. "Banks care more about your annual income."
Cash Buyers
Cash buyers continue to play a major role in the local housing market as well as for the entire region. Dataquick reported cash buyers in April accounted for more than a third of all sales in Southern California. That's more than double the monthly average in 1988 when cash purchases made up 16 percent of total sales, Dataquick said.
"Cash buyers are dominating the San Diego market, especially for those properties in prime locations that are in need of a rehab," Hagan said.
"It's so hard for some people to get a loan especially a jumbo loan (more than $417,000) because so many people are self-employed," Meyers-Pyke said.
Prev Next