COMMENTARY
Downtown Is Now Facing a Defining Moment
Monday, June 10, 2013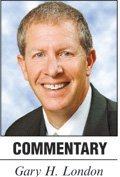 Internet retail giant Amazon.com recently announced expansion plans for downtown Seattle, including a 65,000-square-foot "biosphere" made up of three glass-and-steel domes as part of a three downtown block acquisition with plans to build 3.3 million square feet of office space.
Over the past 15 years, downtown San Diego has only added 1.3 million square feet — in total.
While there are three buildings in the works — potentially totaling two million square feet — they will not be built until or unless a proven big tenant will commit to occupying them. One, the 300,000-square-foot Cisterra building, is reported as a conversion from what was to be a residential tower to Sempra Energy's new downtown headquarters.
That is a zero add in terms of downtown occupancy, which currently stands at 84 percent.
Downtown lease rates have slipped also, on average from $2.72 (per square foot, per month) six years ago to $2.09 today. Recent deals have been at rates ranging from $1.65 to $2.30, suggesting that the average is trending even lower. If you are a building owner, this is dire.
Moreover, until or unless downtown reinvents itself with some kind of infusion from the business community, it will remain, at best, a flat office market for the foreseeable future.
My view is that the flatness of this market is not just cyclical. This may be permanent in light of the competition from suburban corridors, and the notable shift of public policy interest away from downtown.
Change for the Worse?
By any of these metrics, or others more mundane, downtown seems to be slipping in importance. Just look around. Lunchtime restaurant venues have closed over the recessionary period, and few have reopened. The restaurant scene is mostly supported by visitors coming to conventions and frequenting the Gaslamp Quarter.
Walk down the major business streets of downtown, B and West Broadway. They are emptier than at any moment in the 30 years I have been walking these streets.
Look at the buildings. Over these same 30 years, the Class A inventory has actually decreased along the B Street corridor. The only Class A structures that have been built are on the west side on or near West Broadway.
Look at City Hall, or the block across the street that houses the defunct California Theatre building. These embarrassing structures "anchor" C Street. The street front is mostly empty and barricaded. The street scene does not suggest prosperity, commerce or, frankly, civic interest.
Prev Next