WD-40 Co. Reports Net Income of $10.3M for Q3
Wednesday, July 10, 2013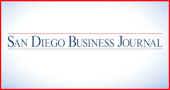 WD-40 Co., the San Diego maker of the all-purpose lubricant and other household products, reported fiscal third quarter net income of $10.3 million, up 12 percent from the like period of 2012.
Year-to-date net income was $31.7 million, up 19 percent for the comparable nine-month period of last year.
Revenue for the quarter that ended May 31 was $93.1 million, up 7 percent from the like quarter of 2012. For the nine months, WD-40 reported revenue of $275.1 million, up 7 percent from the like period of the prior fiscal year.
A global business, the company said sales in the Americas for the quarter made up 51 percent of the total while sales in Europe made up 35 percent, and sales in Asia/Pacific were 14 percent.
CEO Garry Ridge said sales in Europe were in line with expectations and showing signs of rebounding. "We also continue to see long-term opportunities throughout Asia, particularly in China, but there will always be a lot of ups and downs due to the timing of promotional programs, shifting economic growth patterns and varying industrial activities in China," Ridge said.
While the company said sales in China declined this year, the company continues its promotion and is making it easier to purchase its products.
— SDBJ Staff Report